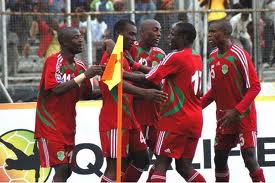 Malawi have been hit by injury worries a week before they begin their quest to qualify for next year's Africa Cup of Nations finals.
Three key players have been ruled out of their trip to Chad – captain Peter Mponda, defender Harry Nyirenda and midfielder Robert Ng'ambi.
They join a number of others who have been ruled out for other reasons, including vice-captain Elvis Kafoteka, who is in Thailand, and striker Russel Mwafulirwa, who has not been playing since leaving Sweden for South Africa.
First-choice goalkeeper Swadick Sanudi is also unavailable.
Coach Kinnah Phiri has therefore been forced to call-up just ten overseas-based players, with nine locally-based stars completing the squad – the greatest number in more than a decade.
"I look at this as an opportunity for the local players and as a challenge for me," Phiri told the BBC.
"I have belief in these young boys because any time they have been given a task to do, they have never disappointed me."
Continue reading the main story
"We are not going there as angry people, we are going there to participate…"
Kinnah Phiri
Malawi coach
Chad is where Malawi's hopes of reaching the 2012 Nations Cup faded,
as they conceded a last-minute equaliser which allowed Tunisia
to pip them in qualifying Group K.
But Phiri says that has no bearing on what they can achieve next week.
"We are not going there as angry people, we are going there to participate properly and put our heads down – if we are angry we will make mistakes and [our opponents] will capitalise on them," the coach said.
"I can tell you that away games are not easy – but through determination and hard work we can win."
Malawi also face 2014 World Cup qualifiers later this year.
They are in qualifying Group F for the global showpiece and will take on Nigeria, Kenya and Namibia from June this year.
Subscribe to our Youtube Channel: