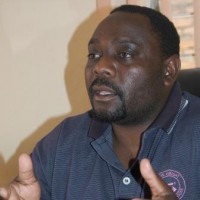 Claims by the ruling Democratic Progressive Party (DPP) on a possible coup this mid month refuse to die, with Joyce Banda and Reverend MacDonald Kadawati being recently implicated to be behind the plot.
Banda is the country Vice President, heading People's Party which she founded after the DPP expelled her from the party.
Kadawati is the chairperson of the Public Affairs Committee (Pac) which is about to hold it conference beginning this Wednesday.
But speaking at Kachere Township in Blantyre on Sunday during the President Bingu wa Mutharika's whistle stop tour on his way to Zomba, DPP Southern Region Governor Noel Masangwi said Banda and Kadawati are behind the coup plot.
"Kadawati married from home area [Zomba Malosa] of Joyce Banda, the leader of People's Party; he's being sent by her. Pac is working for Joyce Banda [and] their meeting is aimed at opposing the good leadership which is in this country.
"Their aim is nothing else but get into government through the backdoor. But I would like to assure Kadawati and Banda that we [in the DPP] would not allow them succeed," Masangwi said.
But PP Deputy Publicity Secretary Kenneth Msonda described the allegations as unfounded, adding the government just wanted to demonise the opposition before arresting them on tramped up charges.
"The government just wants to make the opposition look like criminals before effecting arrest of opposition leaders, so that they languish on remand in prison as the courts are not functioning.
"But one thing they should know is that we in the opposition would unseat this government through the ballot and not the backdoor," Msonda said.
Commenting on the coup claims, political commentator Blessings Chinsinga has expressed doubt that there could be a coup, saying those people making such claims do not understand the meaning of a coup.
"A coup is staged by the military and not the civil society. Probably they should have been talking about demonstration that could bring some kind of lawlessness and not a coup which needs security infrastructure to support their claims by the new leaders," Chinsinga said.
Chisinga said the coup claims could be deliberate attempts by the government to generate public sympathy.
"In my view, this is an acknowledgement that the government has failed to deal with the problems facing the country and instead they have resorted to generating public sympathy to ensure them of continued support," said Chinsinga, adding such sympathy never last long.
Kadawati was not readily available for comment.
Subscribe to our Youtube Channel: