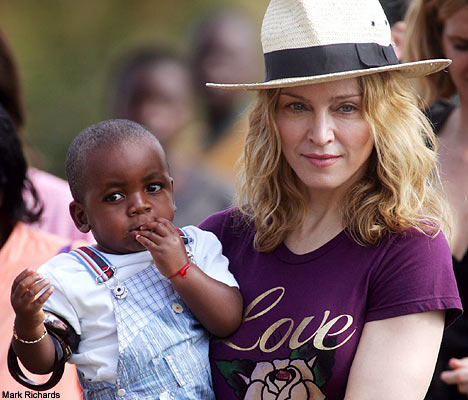 Malawi's government on Tuesday accused Madonna of not consulting over her plans to build 10 new schools in the poor southern African state and said the singer seemed more interested in promoting her global image than helping with education there.
But the head of an organisation that pop star Madonna brought in to help with her efforts in Malawi fired back, saying the government accusation was "simply not true" and that it had been "fully updated" on the singer's plans.
Madonna, who has adopted two children from Malawi, announced in January her Raising Malawi charity was teaming up with the non-profit group buildOn to construct the schools, which would educate at least 1,000 children a year. Malawi's Ministry of Education spokeswoman Lindiwe Chide told Reuters the government was "fed up" with Madonna. Chide said that when the singer last year scrapped a previously planned academy for girls in Malawi, alleging mismanagement and cost overruns, she did not inform Malawian authorities. "Now she decides to announce that she plans to build 10 schools without getting authority from us again," Chide said. "We now feel like this is all about propping up her global image and not in our interest," she added.
Trevor Neilson, who heads up Global Philanthropy Group, said in a statement released by the pop star's New York-based spokeswoman: "This is simply not true. The government of Malawi has been fully updated on Madonna's effort to provide funding for ten schools to be built in communities where there are no schools."
Madonna's earlier plan to build a state of the art girls school for about 400 girls just outside the Malawi capital Lilongwe collapsed last year, and the board of her Raising Malawi charity was fired. The New York Times said at the time that $3.8 million (2.4 million pounds) had been spent on the school with little to show for it. The singer has lent $11 million to the organization which she co-founded in 2006. Chide said: "She has no mandate to decide where she wants to build a school because she doesn't know our needs and where we want new schools … she first needed to consult us, get permission from us before doing anything".
Neilson countered by saying that Raising Malawi had communicated with Malawi's Minister of Education and that buildOn had discussed the project with local officials and "cleared all plans for school construction with them." Malawi has more than half a million children orphaned by the AIDS epidemic and is ranked by the United Nations as one of the world's 20 least developed countries. The latest dispute came at a time when Malawian President Bingu wa Mutahrika is at loggerheads with former colonial ruler Britain and other western donors. Historically, foreign aid has accounted for 40 percent of Malawi's budget but much of this assistance has been suspended following a police crackdown on opposition protesters in July that killed 20 people. The row with Britain came over a leaked diplomatic cable that called Mutharika "autocratic."
Neilson did not address those specific issues but did say, "it is surprising that the government of Malawi would object to this support when only 26 percent of children complete the primary school cycle and at a time when other international donors have withdrawn aid to Malawi due to governance concerns."
Subscribe to our Youtube Channel: