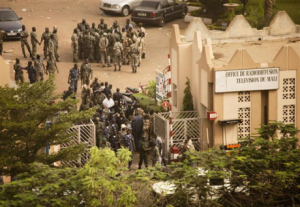 The U.N. Security Council and Secretary-General Ban Ki-moon strongly condemned on Thursday an overnight coup in Mali by renegade soldiers angry at the government's failure to stamp out a separatist rebellion in the north of the west African state.
Low-ranking Mali soldiers who led the coup said they had seized power and ordered the state's borders closed, threatening to reignite instability in a Saharan region shaken by the conflict in Libya.
Ban "calls on those responsible to refrain from any actions that could increase violence and further destabilize the country" and for "the immediate restoration of constitutional rule in Mali," his office said in a statement.
Mali was due to hold a first round of elections on April 29.
"There's nothing particularly good that can come out of overturning an elected president about a month or six weeks before a new election is supposed to take place and putting the two main candidates … in military barracks and holding them," U.N. Under-Secretary-General for political affairs Lynn Pascoe told reporters after briefing the Security Council.
Britain's U.N. Ambassador Mark Lyall Grant, who holds the council's monthly rotating presidency, said there was a suggestion that ministers of the Malian government had been detained.
The 15-nation Security Council members called on the renegade soldiers to "ensure the safety and security of President Amadou Toumani Toure and to return to their barracks. They demand the release of all detained Malian officials."
The whereabouts of the president are unknown.
The council said it had urged all parties to exercise maximum restraint and called for the immediate restoration of constitutional rule and the democratically elected government.
In Mali, the newly formed National Committee for the Return of Democracy and the Restoration of the State claimed power.
The 7,000-strong Malian army has sought better weapons to fight northern Tuareg rebels bolstered by armed ethnic allies who fled Libya after fighting for ousted leader Muammar Gaddafi.
Pascoe said up to 2,000 fighters had returned from Libya, adding firepower and drive to the Tuareg rebellion.
(Visited 23 times, 1 visits today)