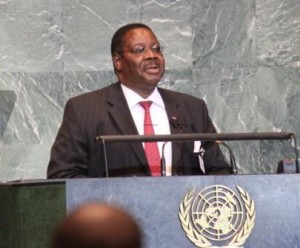 Minister of Foreign Affairs and International Cooperation Peter Mutharika on Thursday met heads of various international organisations working in the country including the United Nations, World Bank and IMF.
Among other issues, the meeting discussed the country's economic crisis and the political environment, according to some of the officials who attended the meeting.
Mutharika met over 20 heads of organisations behind closed doors at his Capital Hill office just a few days after he also met heads of foreign missions.
Speaking after the meeting, UN Resident Coordinator Richard Dictus described the meeting as 'fruitful' and a 'positive development', saying the leaders took advantage to discuss a wide range of issues.
He cited the ongoing discussions between the government and the World Bank alongside IMF and the political situation as the issues most representatives were interested to hear from the government.
"The ongoing (World Bank and IMF) negotiations are so crucial to this country and affect the operations of some of those bodies present at the meeting. Social protection, fuel and forex constraints also interested me. In the end everybody was extremely happy and came out with a positive feeling at the end," said Dictus.
On the political situation, Dictus said the international organisations sought clarification from the minister but as such agencies are often 'concerned' about global trends.
Mutharika described the meeting as cordial and said the relationship between the international agencies and the government as good.
"The purpose is to explain a number of things; the AU, developments in the country that might affect their work like security. It was a robust meeting as we would say in diplomatic circles. We also appealed to their support and assistance during the AU summit," said Mutharika.
He explained that the meetings with the heads of mission and agencies could have taken place earlier soon after his appointment but said a busy schedule had prevented him.
Apart from the World Bank and IMF other notable institutions that were present at the meeting were AU, UNDP, Unicef, UNHCR and UNFPA.
Subscribe to our Youtube Channel: