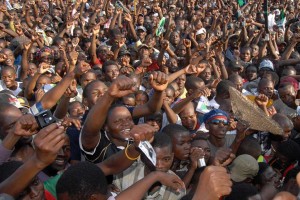 Government says it will continue stopping political rallies in the country if the security situation is volatile.
But when quizzed why only opposition rallies are blocked, some officials have explained that ruling party rallies are always peaceful as hooligans can hardly hijack them.
Dowa District Commissioner James Manyetera said this in an interview on Monday when asked why he blocked opposition political rallies yet the ruling Democratic Progressive Party (DPP) officials are allowed to hold their meetings undisrupted.
This follows Manyetera's decision to ask Vice President Joyce Banda reschedule her political rally which was scheduled to take place on Sunday in Mponela.
"I did not stop the rally but rather I requested the secretary general of the party to consider rescheduling the meeting to another date after I consulted some authorities.
"The situation was tense the whole week in Lilongwe which is just 56 kilometres away from Mponela, so we feared some people could easily travel from Lilongwe to cause havoc," said Manyetera.
Manyetera said prevention was important than to wait for violence to happen first, saying the vice president appreciated the situation and later called him to confirm of the postponement of the rally.
"The situation has improved now, she can hold a rally any time," said Manyetera.
Asked why it is only the opposition which is blocked from holding rallies in such situations, Manyetera said it is easier for people to hijack peaceful opposition rallies than those held by the ruling party.
"If people have issues to settle with government, they cannot do that at the ruling party political rally. Security issues are the responsibility of everyone, not me or the police alone," said Manyetera.
Secretary for Home Affairs and Defence Samuel Madula said permission to hold rallies are given by the office of district commissioners, and the police only enforce decisions by the district commissioners.
"The district commissioner has the mandate to allow or not to allow a political rally and the role of the police is to implement the decision of the district commissioner," said Madula.
However, political analyst Augustine Magolowondo said public rallies and demonstrations are constitutional rights which he said the executive should not tamper with.
"If people are unnecessarily obstructed, like in the case of Atupele [Muluzi] situation in Lilongwe, this can trigger violence. People feel they are being oppressed and they can respond violently. It's extremely important that the authorities understand their authority and the limits to their authority," said Magolowondo.
He advised district commissioners to tread carefully on these issues, saying they should not be seen as being used by the executive or state agents to oppress the opposition.
(Visited 172 times, 1 visits today)