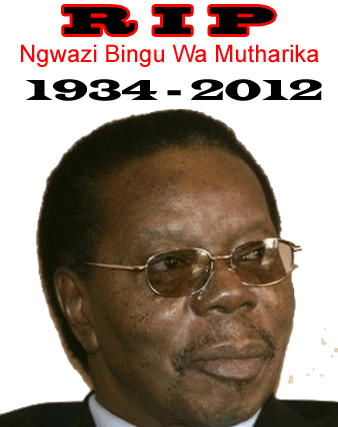 Cabinet has endorsed a K150 million budget for the state funeral of former president Bingu wa Mutharika.
Chairman of the ministerial committee on the funeral Henry Mussa told reporters in Lilongwe Thursday that the figure had been scaled down from an initial budget of K400 million.
Mussa, who was flanked by new Information minister Moses Kunkuyu also confirmed that cabinet has further ordered the purchase of 20 million litres of fuel to ease mobility during the funeral ceremony.
Mussa said that the 20 million litres of fuel plus the 5
million litres Zambia has donated to Malawi should be sufficient for logistical requirements.
The body of president Mutharika will arrive on Saturday noon through Kamuzu international Airport.
Mussa said on arrival, the body will be accorded a full guard of honour to be mounted by the Malawi Defence Force and prayers before getting on a procession through M1 FRoad to Area 18 round about, past Parliament Building into the presidential drive to the New State House.
On Sunday the remains of president Mutharika will lie in state at the New State House for family members and close friends to pay their last respects. On April 16 and 17, the remains will lie in
state at Parliament Building where people from the central region will be allowed to view the body.
On April 18, Mussa said, the body will be flown to Mzuzu State Lodge for the public in the North to pay their last respects. In the afternoon of the following day, there will be a vigil at Sanjika Palace.
From April 22, the body will be at Ndata Farm, where, according to Mussa, the former head of state chose to be buried when he died.
"Those of you who have been to Ndata will agree that the late president already prepared his resting place there. So who are we to argue against his wishes?" Mussa said.
Mussa also said the actual burial ceremony will be handled by the Roman Catholic Church to which the former head of state was a member.
Cabinet says government has invited heads of state and government and organisations such as the African Union, Commonwealth, United Nations, Comesa, Southern Africa Development Community and leaders of local and international political parties.
Subscribe to our Youtube Channel: