A sombre mood fell over Malawi as truckloads of people arrived to welcome the remains of late president Bingu wa Mutharika, due back from South Africa Saturday following a fatal heart attack.
Hundreds of people gathered at Kamuzu International Airport in the capital Lilongwe to await the South African military plane carrying the body of a man known at the same time as "father of the nation" and oppressive "Mr know-it-all".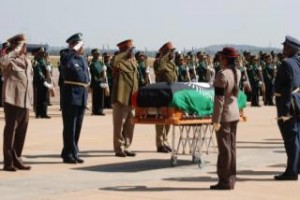 "The reality that we have a funeral has sunk in among residents of the capital city. We want to give our dear leader a hero's welcome from South Africa," said Richard Phiri, a supporter of Mutharika's Democratic Progressive Party (DPP), as he climbed down from a truck in the airport car park.
He was not alone.
Even supporters of Mutharika's rival and new president Joyce Banda arrived, wearing the colours of their People's Party.
"For once, the nation should be united over this funeral. Despite his failings, Mutharika was our head of state," Sheila Gamute told AFP.
The 78-year-old had been flown to South Africa after he suffered a fatal heart attack on April 5.
Pictures sent by South Africa's foreign affairs department showed Mutharika's casket being loaded into a military airplane with a guard of honour.
The coffin was draped in Malawi's flag, which shows a red sun rising over black, red and green horizontal bars.
In his home country government trucks were ferrying people to the airport amid fuel shortages caused by a lack of foreign currency blamed on Mutharika's policies.
Neighbouring Zambia has given Malawi five million litres of fuel, which can last for five days, to "help with the funeral process."
But there has been little public sympathy over the president's death.
"Let the man be buried first. We come to mourn and bury him, not to praise him," wrote Edward Chitsulo, a columnist in the independent Nation newspaper on Saturday.
"Of course that he plunged the country into economic and social abyss is not under dispute," he added.
President Banda, who was sworn in a week ago as only Africa's second female head of state, has urged Malawians to give her predecessor a "dignified funeral."
She would be on hand to receive Mutharika's body when it arrived in the afternoon.
A military guard of honour would welcome his remains and Catholic prayers would be said on the tarmac after the plane's arrival from South Africa, according to Henry Mussa, local government minister and funeral committee head.
Mutharika's body will lie in state at the $100-million (76-million-euro) presidential palace for the "family and friends to pay their last respects", before being taken to Mzuzu in the north and Blantyre in the south.
He will buried on April 23 at a family mausoleum on his personal farm in Thyolo district, 20 kilometres (12 miles) from the commercial hub Blantyre, Mussa said.
"His wish was that he be buried next to his first wife Ethel at their mausoleum," he said.
(Visited 75 times, 1 visits today)