Joyce Banda, Malawi's new president, faces many economic and security challenges as poverty ravages the country and loyalists of the late Bingu wa Mutharika threaten to unsettle her government.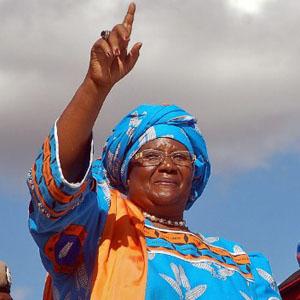 For Joyce Hilda Banda, Malawi's new and first female president, the road remains rough. Banda was sworn in as president on 7 April 2012 following the death in office of her predecessor, Bingu wa Mutharika, following a cardiac arrest. Mutharika, 78, was not publicly confirmed by doctors and no one in the government would initially admit his death.
Before she eventually emerged, there were reports that some cabinet members didn't want her to succeed Mutharika though the country's Constitution is clear she was next in line. Before admitting the president had died, his party had named his brother as president.
The newly inaugurated president's appeal to the opposition suggested she has a quite a mountain to climb in ruling Malawi. "I want all of us to move into the future with hope and with the spirit of oneness and unity. I hope we shall stand united and I hope that as a God-fearing nation, we allow God to come before us, because if we don't do that, then we have failed," she said.
Banda, 61, is not unaware there are hawks in government planning to destabilise her administration with a view to eventually toppling her. Consequently, she has, immediately on assuming power, been taking steps to weaken the opposition. Banda has been reshuffling key government positions, kicking out untrusted officials and replacing them with avowed loyalists. In her first week as president, she sacked the country's Information Minister, Patricia Kaliati and police chief, Peter Mukhito. Although no reason was given for Mukhito's removal, there are reports he had been accused of mishandling anti-government riots in 2011 in which, at least, 19 people were shot dead. Banda has also appointed Mary Nkosi as Reserve Bank governor, the first Malawian woman to hold the post.
Banda has also announced she was opening an investigation into the 2011 death of 25-year-old activist, Robert Chasowa who had criticised late Mutharika. Mutharika, who governed Malawi for eight years, fell out with the United Kingdom, the country's former colonial leaders, leading to the withdrawal of the latter's direct aid. The UK accused the Malawian government of mishandling the economy and failing to uphold human rights.
Banda's presidential challenges are huge as she serves out the remainder of Mutharika's term, which ends in 2014. Apart from handling political divisions and arresting threats of the opposition, she has to address Malawi's serious economic difficulties. Malawi is one of the poorest countries in the world, with an estimated 75 per cent of the population living on less than $1 (60p) a day. The country, widely regarded as an impoverished country, has recently been suffering shortages of sugar and fuel. Earlier this year, an American aid agency that provides assistance as a reward for good governance withheld $350 million from Malawi. Last year, the International Monetary Fund, IMF, described Malawi as "off-track."
Banda's popularity with the West is expected to change all that. She has held talks with the country's foreign donors to normalise relations. Hillary Clinton, United States of America's Secretary of State has been asked to unfreeze aids that were meant for Malawi through the U.S. Millennium Challenge Corporation.
In Malawi, women have rampantly been attacked for wearing what they desire, particularly trousers or pants. Earlier this year, Mutharika told the police to arrest anyone who attacked a woman for wearing pants in public. She has participated in protest marches in defence of women's rights to wear what they want to wear. "Some of us have spent our entire lives fighting for the freedom of women. It's shocking some men want to take us back to bondage," she said.
She will need to win over enough members of parliament, so legislators will not block her efforts to govern, especially since she has been ousted from the ruling Democratic Progressive Party, DPP, for refusing to support Mutharika's younger brother, Professor Peter Mutharika, as successor to the presidency.
Born on 12 April 1950 in Zomba, Banda began her career as a secretary. She joined politics in 1999 during Malawi's second democratic elections and won a parliamentary seat in the party of then-president Bakili Muluzi. She was named Minister for Gender and Community Services.
Banda ran as the vice-presidential candidate of the DPP in the May 2009 presidential election, alongside Mutharika. She served as Malawi's first female vice-president. She later fell out with Mutharika and founded her own party, the People's Party, although she remained as vice president.
Prior to an active career in politics, she was founder of the Joyce Banda Foundation, the National Association of Business Women, the Young Women Leaders Network and the Hunger Project. She was listed in Forbes Magazine 2011 as the third most powerful woman in Africa.
(Visited 53 times, 1 visits today)