Grief yesterday engulfed the New State House's Banquet Hall, as family friends, cabinet ministers and MPs started viewing the body of late president Bingu wa Mutharika.
As they paid their last respects, some were visibly shocked, while others wept. Others failed to control their sorrow as they wailed.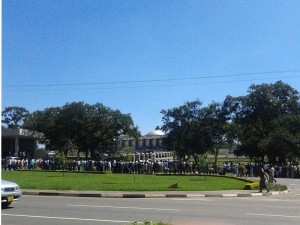 As the shock and pain of Mutharika's death sank in the hearts of his closest associates and aides on Sunday, several cabinet ministers and top Democratic Progressive Party (DPP) functionaries wept profusely after viewing his body at the State House.
Mutharika's widow, Calista Mutharika arrived in the Banquet Room where the body laid in state at around 10 am but earlier, relatives and other associates were still allowed to view the body.
Minister of Labour, Luscious Kanyumba and DPP deputy vice president, Yunus Mussa were seen visibly shedding tears after viewing the body.
The same was the case with Democratic Progressive Party (DPP) National Campaign Director Ken Zikhale Ng'oma, a long time friend and political companion of the late president.
Ng'oma, a former State House Chief of Staff, had a long political association with the late president which dates back to the late 1990s when the two formed the now disbanded United Party (UP).
He was visibly in a bundle of emotions, tears flooding his cheeks as he walked dejectedly back to his seat after bowing in respect to the late president.
Leader of the Opposition John Tembo, accompanied by the Malawi Congress Party (MCP) MPs Vitus Dzoole Mwale and Watson Makala Ngozi also paid their last respect to Mutharika.
United Democratic Front (UDF) leader in parliament, Ibrahim Matola and his deputy, Atupele Muluzi led UDF MPs in paying their last respect to Mutharika.
Alliance for Democracy (Aford) National Chairman, Enock Chihana, Maravi Peoples Party president Uladi Mussa also paid their last respect to the fallen Malawi leader.
As they day grew, people from different areas across the city, and beyond went to the New State House to view Mutharika's body.
Subscribe to our Youtube Channel: