Ghanaian Nollywood actor Van Vicker will jet into the country todayat noon via Chileka International Airport in Blantyre for a five day trip.
As part of his programme, the actor will on Friday morning be engaged in interacting with budding actors attached to the Association of Teaching of English in Malawi (ATEM) during an event to be held at Likangala Secondary School in Zomba.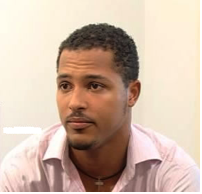 "ATEM will organise a drama performance which will be staged by the best actors. Apart from donating some money, this will be a platform for the actor to motivate the students on the acting career," said hosts MultiChoice Malawi's marketing manager Chimwemwe Nyirenda.
Van Vicker, who has starred in several high-profile Nollywood movies, is also expected to take part in several programmes including starring in Rising Choreos play Well Calculated which also features musician Lucius Banda.
Rising Choreos' marketing director Joyce Mhango Chavula said people should brace for the best.
"It's an exciting time and we want people to see something different. The rehearsals have been perfect and Lucius is good, I didn't know he can act," she said.
Part of his programme will see the Nollywood actor having a fundraising autograph session in Blantyre on Thursday.
He will then have a private lunch at Ku Chawe Inn in the afternoon before an after-party in the evening at Robins Park to be spiced up by performances from Dan Lufani, Black Missionaries and Zambia's Organised Family.
Vicker will then leave for Lilongwe by road and make whistle-stop tours where people will win various prizes.
In Lilongwe the actor will host a cocktail at Sunbird Capital Hotel before taking to the stage for Well Calculated.
According to Nyirenda, patrons to the Blantyre and Lilongwe cocktails will be selected from the people who submit posters of Nollywood actors that have been appearing in The Weekend Times.
"That is why we are calling on people to submit the posters now so that they stand a chance of dining with Van Vicker," he said.
Vicker is also expected to visit Sunbird Livingstonia in Salima where he will have a farewell breakfast before flying out through Kamuzu International Airport on April 30.
Joseph van Vicker was born on August 1, 1977. He received two nominations for Best Actor in a Leading Role and Best Upcoming Actor at the African Movie Academy Awards in 2008.
The actor, who is married with children, owns and runs Sky & Orange, an advertising agency and event management company; Babetown, a unisex barber shop; and the Van Vicker Foundation, an outreach program for upcoming young artists.
Subscribe to our Youtube Channel: