Malawi's former ruling Democratic Progressive Party (DPP), the party that heavily benefited in contemptuously ignoring Section 65 court rulings is having a change of heart. The tactics they used on crossing the floor have turned against them.
DPP has now warned that it will ask the Speaker of the National Assembly to declare vacant seats of its MPs who would leave for President Joyce Banda's People's Party (PP) in line with Section 65 of the Constitution.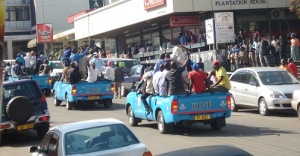 This comes amid claims from the ruling PP that over 80 parliamentarians from the DPP and other parties have joined it.
The section reads: "The Speaker shall declare vacant the seat of any member of the National Assembly who was, at the time of his or her election, a member of one political party represented in the National Assembly, other than by that member alone, but who has voluntarily ceased to be a member of that party or has joined another political party represented in the National Assembly, or has joined any other political party or association or organisation whose objectives or activities are political in nature."
However, DPP secretary general Wakuda Kamanga earlier said his party was ready to support Banda if government entered into an agreement with their party, adding it was not wrong for individual DPP MPs to just pledge support to the new President.
"We may use Section 65, but with a lot of sadness. If Section 65 will be applied, it will not be applied because we want to victimise anybody at all. It will take its course because people in Parliament will say that there is something to do with Section 65 concerning us.
"It is not our intention to victimise anybody because we love our MPs and we know that some of the things they have said is because of the situation that had befallen us [death of former president Bingu wa Mutharika]," Kamanga said in an interview this week."
"We will also have a problem if PP will try to fish out some people from our party. As a party, we are ready to work with the President and assist her in whatever capacity, but we need to sit down and discuss how we can do that.
"Just appointing people will be a strange way of doing things. Remember we are a majority in Parliament," said Kamanga.
But the DPP secretary general said the party will have to meet to discuss whether to invoke Section 65 on its MPs who are defecting to PP. On the inclusion of some DPP members into Cabinet which President Joyce Banda announced on Thursday, Kamanga said the party was taken by surprise but is not worried as long as they go into the Cabinet to serve the country.
DPP has about 140 MPs in the House whereas PP is not formally recognised in Parliament.
Apart from Vice-President Khumbo Kachali and newly appointed Minister of Gender, Children and Social Services Anita Kalinde who were fired from DPP and aligned themselves with PP; others like Local Government Minister Grace Maseko and Deputy Minister of Gender, Children and Social Services Jeniffer Chilunga resigned from the former ruling party.
An analyst described the party's stand as "hypocrisy", saying DPP poached MPs from other parties when it became the ruling party after Mutharika ditched United Democratic Front (UDF) in 2005 and later the party put up a fierce battle against the application of Section 65.
Mutharika referred the section to court for a review and virtually rejected the verdict on the matter.
"That is hypocrisy of the highest order because we had a similar situation and it is the same people who neglected the verdict of the Chief Justice on Section 65," Dr Mustapha Hussein, a Chancellor College political scientist, said.
"Their pushing of the issue now would just show what type of people they are," he added.
But Kamanga could not be drawn to comment on whether the party's wish to use Section 65 this time around would not be hypocritical when they fought against the law in Mutharika's first term of office.
PP publicity secretary Steven Mwenye on Thursday said the party is yet to strategise on how to deal with Section 65 to save the defecting MPs from losing their seats in Parliament if DPP pushes for enforcement of the law.
"We are currently just accepting those who are genuinely applying to join the party. We will look at that issue later," said Mwenye, adding that so far, over 80 MPs from DPP and other parties have defected to PP.
In the event that over 80 MPs are deemed to have crossed the floor, government would spend over K160 million to hold by-elections. Two years ago, the Electoral Commission required about K2 million to hold a by-election.
Mwenye, however, said PP would be ready to go for by-elections in any constituency should the Speaker declare vacant the seats of the defecting MPs for crossing the floor in contravention of Section 65.
University of Malawi's constitutional expert Dr Edge Kanyongolo last week said PP could use both legal and illegal means to gain a working majority in Parliament.
He said the legal path could see PP's Banda appointing members of other parties to work with government in Cabinet or pick the second vice-president from another party with a lot of parliamentarians while the illegal path would involve buying MPs into PP's fold.
"This has to be done while at the same time avoiding Section 65 [of crossing the floor] of the Constitution," said Kanyongolo, observing that following the 2001 amendment, Section 65 now applies to even parties with no representation in Parliament.
Subscribe to our Youtube Channel: