Isaac Muralaudira is 8 years old and has never visited a dentist. He suffers from periodontal disease and tooth decay.
"His gums are being eaten away. It's a gum disease. There is bleeding and this is due to the periodontal disease and the decay. His teeth have been dissolved by acid," said Fred Sambani, the country director for Teethsavers International while using dental equipment to examine Isaac's mouth.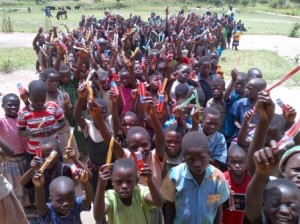 Isaac experiences toothache but can't receive the necessary treatment since the dental clinic is too far from his village.
"If this is untreated, he won't be able to use one side of his mouth to chew," said Sambani.
Many children in the rural areas of Malawi have little or no accessibility to oral healthcare.
Teethsavers International is an organization established to promote oral healthcare through education and treatment in the rural areas of Africa. Through songs, visual dialogue and interactive activities, the organization teaches children and parents about the importance of oral hygiene.
In one week, dental professionals from the organization visited Bright Vision orphanage and Tilerane Orphan Care in Lilongwe, Malawi, and Circle of Hope orphanage in Dowa, Malawi. They provided oral healthcare treatment to those who have cavities, periodontal disease and plaque buildup.
From the 924 children that were screened at each orphanage, 45 have cases of periodontal scaling and 32 required cavity fillings.
The organization was not able to treat all the children who had oral healthcare problems. The ones with severe cases were referred to a hospital for alternative treatment.
"This is a problem in the rural parts of Malawi. If oral health is not looked after, it usually leads to serious infections and sometimes even fatality," said Sambani.
He said the major concern with oral healthcare is the lack of awareness.
Teethsavers International hopes that the Malawi government can implement an initiative that will build greater awareness of the issues surrounding oral health.
Enock Phale, the assistant director of clinical services in Malawi's Ministry of Health department said the government is aware of these issues. He said they are working on programs that will promote oral health care in the rural areas.
"We have to work with the limited resources that we have; in terms of professional workers and supplies," said Phale.
There are 19 dentists in Malawi; 18 of them are in private practice while one is designated for government personnel's only. None of which are situated anywhere close to the rural areas.
(Visited 46 times, 1 visits today)