"Very few people look at the film industry as a business here in Malawi", said Shemu Joyah, the director of the filmSeasons of a life, during a public lecture given at Blantyre's sports Club on April 29th.
According to Mr. Joyah, the movie industry is a viable way to generate additional revenues for the country in addition to attracting tourism.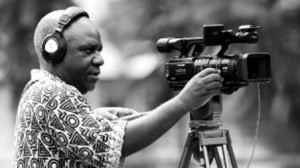 "Nigeria's film industry started 20 years ago. Today you will be surprised that Nollywood is the second largest filmmaking industry in the world generating revenues of 20 million US dollars yearly", said Joyah.
For Joyah, Malawi has the potential to create movies up to the industry's standard but the lack of funding makes it very difficult for any aspiring filmmakers and scriptwriters to make their way into the business.
Malawi's government has an estimated 20 million kwacha annual budget dedicated to culture (approximately 117 000 Canadian dollars) which is not enough to support the Malawian art industry. Joyah's first movie, whose cost amounted to $ 60 000 US dollars, was funded using his personal savings.
But the lack of funding is not the only thing holding Malawi's film industry back: Accessing  information and obtaining the necessary authorisations to film is still very difficult in Malawi. According to Mr. Joyah this is mainly cause by the fact that employees working in public institutions do not want to take any decision because they are afraid they will lose their jobs.
"I went to different institutions like the court, Chancellor College and the airport but they rejected my demands to film in these locations without giving me any good reason", explained Joyah.
It took Mr. Joyah two months and several phone calls to receive a letter from the national court denying him the right to film inside their premises. However, he admits that the situation as eased a little since his movie was awarded in Canada, Tanzania and Italy.
"To my surprise, the people who couldn't provide the support at first where willing to when the film received recognition" he explained.
Joyah sees a great future for Malawi's film industry  internationally even though he admits that art in Malawi is still a "newly born baby".
"Films offer great inside of our culture. This happens only when we are able to tell our own stories and sing our own songs", he said.
Seasons of a life is the only Malawian film currently available on the international market. The last fishing boat, Joyah's second long feature film is to be launched in June.
(Visited 33 times, 1 visits today)