Get your shots, or else get shot. That is the message being sent by the Bill & Melinda Gates Foundation and its partners in Africa that are helping the organization achieve its goal of vaccinating every single child on the planet.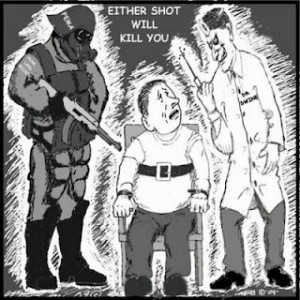 According to a recent report from the Ministry of Health, at least 131 Malawian children were vaccinated this week at gunpoint after having previously fled the country with their parents to avoid the mandatory jabs.
Reports indicate that a number of children and their parents belonging to Zion and Atumwi Churches fled the southeast African country of Malawi to neighboring Mozambique a few months ago in order to avoid a measles vaccine campaign.
Upon recently returning, officials apparently learned of the unvaccinated children's whereabouts and, with the help of Bill & Melinda Gates Foundation allies, forcibly injected them at gunpoint with the vaccines.
"We were alerted that some children who were hiding in Mozambique were back in the country and we asked police to escort the health officials in order to vaccinate them, and we have managed to vaccinate about 131 children," said Dr. Medison Matchaya, District Health Officer in Nsanje, Malawi, to Face Of malawi.
The faith and personal beliefs of the children and their parents obviously convinced them that the vaccines were not a good idea — and as individual human beings, they have every human right to deny any form of forced "medicine" that violates their convictions or risks putting their health at serious risk — which is why they were willing to flee in the first place.
But thanks to programs launched and promoted by the Bill & Melinda Gates Foundation, these and many other Africans no longer have a choice but to accept forced vaccinations or face being murdered by police.
Subscribe to our Youtube Channel: