For the first time in the history of football in the country, Malawi is expected to have a football academy in Blantyre according to the principle secretary in the Ministry 0f Youth sports and culture, Alexander Mseka on Saturday.
Speaking at the prize presentation ceremony of Simama League 2011-2012 season held at St. John of God Hall in Mzuzu, Mseka said in the quest to show its commitment in the development of sports in the country, government is anytime expected to sign an agreement with Show-stream company to construct the academy.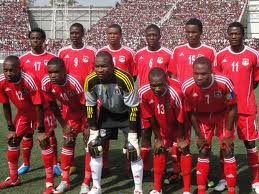 "There is a company which is going to conduct a study to find out if we have oil in Lake Malawi but before they start their assignment, they want to help our country in sports development. In their case, they have chosen to construct an academy where youths will have chance to attain lessons on how to play profession football," he said.
He further said, that the Academy will act like a football nursery hence boosting the development of sports in the country as the Flames will have more players on reserve than depending on the very same players.
"We have had situations where our players playing in other teams abroad denied clearance to come and play for their team. This has been a very big block to our team as there are no other skilled players to take there places, but if we will have more youths trained at the academy, that will not be a very big problem to our team," he added
Also available at the function was Football Association of Malawi (FAM) Vice president Moses Mkandawire. Regional Sports Development Officer, Josephine Msowoya, a representative of the sponsors of the league, Reverend Aaron Mfune and some FAM affiliates from the Northern region.
In an interview with MIJ Weekend Express, Mkandawire concurred with Mseka saying the ball is now in the hands of FAM to sign up an agreement with the company.
"As FAM, we have offered our stadium, formerly known MDC stadium to be rehabilitated and turn into an Academy by Showstream," he said.
Kabwafu FC was awarded K600,000 and a trophy as champions, Mzuni, FC were runners-up and were awarded K300, 000 while Ekwendeni United and Super Eagles got K100,000 and K60, 000 for finishing the league on position three and four respectively. Viphya united and Chawanangwa Kaonga of Super Eagles walked away with K20, 000 for being the most disciplined team and top goal scorer respectively.
In the media category, Mike Bango of Zodiak Broadcasting Station (ZBS) emerged best electronic reporter in radio while Macdonald Malema of Malawi Broadcasting Corporation (MBC) TV was voted best electronic reporter in Television. Sebastian Nyirenda got an award of best reporter in print category.
Subscribe to our Youtube Channel: