Ruling Peoples Party (PP) of State President of the Republic of Malawi Mrs Joyce Banda has dismissed reports that are circulating on the local political arena that its membership including most members of its National Executive Committee (NEC) are not pleased with the newly-appointed cabinet.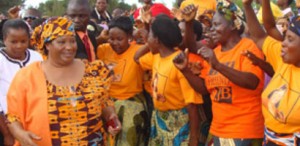 President Banda recently announced a 32 member cabinet described by the local media as 'inclusive' that has seen members from almost all political parties represented in the national assembly taking up some cabinet posts.
The new cabinet has members of the PP, former ruling Democratic Progressive Party (DPP), Malawi Congress Party (MCP), United Democratic Front (UDF), Alliance for Democracy (AFORD) and Congress for Democracy (CODE) of Ralph Kasambara who has been appointed as Minister of Justice and Attorney General.
The President has also included in the new cabinet Henrry Phoya, Uladi Mussa and Dr Cassim Chilumpha who defected from Malawi Congress Party (MCP), Maravi People's Party (MPP) and United Democratic Front (UDF) respectively.
Phoya has been appoined as Lands and Housing Minister while Mussa and Chilumpha are Home Affairs and Energy and Mining ministers respectively.
Surprisingly, the President has left out most of the PP top gurus and reports say that those left out in the cold are not happy with the development as they claimed to have played a crucial role in the formation of the PP.
Among the notable PP front runners who have been left out in the cold include Brown Mpinganjira, Clemment Stambuli, Steven Mwenye, Salim Bagus, Paul Maulidi and a Mr Chawawa.
But party vice publicity secretary Ken Nsonda described the reports as 'untrue' arguing that all is well among members in the PP and that they have welcomed the idea by President Banda to come up with an 'all inclusive' cabinet.
Msonda said the party is pleased because the State President made consultations with all the parties involved including her own PP before coming up with the new cabinet.
"It is the wish of PP to see that democracy is prevailing in the country that is why Her Excellency has appointed members of various political parties in the new Cabinet.
"We in PP believe that we can only forge ahead in as far as development of the country is concerned if we avoid to put partisan politics ahead of issues of national interest.
"Let me put it in bold that all members of the PP are happy with the faces in the new cabinet," explained Nsonda.
Political commentators have told the media that the the was the new cabinet has been hired is a strategy by President Banda to have the much needed numbers in the National Assembly so that business should go on smoothly.
President Banda is expected to open Parliament in the Capital City, Lilongwe on May18, 2012.
(Visited 17 times, 1 visits today)