Malawi leader Mrs. Joyce Banda has appealed to world's top eight richest countries, otherwise known as Group of 8 (G8) industrial nations, currently meeting in United St! ates of America (USA), to help cure the country's ailing economywith massive investment in a bid to accelerate recovery.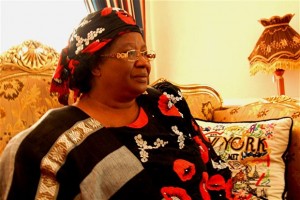 Speaking in an exclusive interview on BBC radio hours before making her maiden state of the nation address, President Banda acknowledged that Malawi is surviving on oxygen machine hence the need for the rich countries to invest in the country.
The President further contended that with the direct foreign investment from the G8 countries, Malawi's struggling sectors like manufacturing financial and agriculture would be revamped."We need a lot of support; very quickly – in the region of $500m, that's why am appealing to the G8 member states to inject huge investments not only in Malawi but rather the entire African continent," acknowledged Banda.
Added she: "It is such investment that can speed up economic recovery and growth. We are fed up of being referred to as a third world country, it is my desire to move my country from poverty to prosperity but for that to happen I need the support of G8 countries."
Meanwhile, in a move seen as direct response to President Banda's appeal, the United Kingdom government has called for urgent action to prevent a Greece-style financial crisis in Malawi.
This was observed by UK's Secretary of State for Development Andrew Mitchell who added that the recent political turmoil, a suspension of foreign aid, and abrupt currency devaluation have conspired to leave the new government with a gaping hole in its budget.
"Malawi is at a crossroads today and action in three to six months may be too late," said Mitchell.
The UK was among those which suspended direct aid to the Malawi government last year during the rule of late president Bingu wa Mutharika. It also has agreed to bring forward some £30m in the next few weeks, and is urging other donors to do the same.
On his part, US president Barrack Obama in his opening address at the G8 summit, announced plans to inject money amounting to $3 billion into poor countries including Malawi to alleviate poverty and malnutrition.
This comes in the wake of a recent United Nations report which indicated that one person out of three in poorest countries in Africa go to bed on an empty stomach.
Subscribe to our Youtube Channel: