A court in Lilongwe has freed five guards working for Group Four Securicor Company (G4) from state claims that they insulted late president Bingu wa Mutharika in December 2010.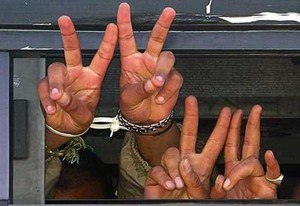 Lilongwe First Grade Magistrate Ritchie Gomani ordered dismissal of the case after the Malawi Human Rights Commission made an application for the five to be released as the state failed prosecution.
The five guards, Henry Musesa, Blessings Dafutala, Frank Noah, Lyford Kalebe and Pilirani Travayi were charged with uttering words calculated to insult, ridicule and show disrespect to the president.
The charge was premised on dictates of Section 4 of the Protected Flag, Emblems and Names Act.
In an interview on Monday, MHRC lawyer Chrispine Sibande said his office applied for the release of the five on Friday May 18 and on the same day, the court granted that the guards be set free.
State prosecutor Napier Chafikana had prayed for adjournment of the case until the lawyer assigned to the case, currently out to China on official duties, was back in the country.
But First Grade Magistrate Gomani observed that constitutionally, accused persons have to be tried promptly, within reasonable time.
"His worship Gomani agreed with the observations that the case had taken long without being prosecuted. He further agreed that the court has powers to discharge the accused persons as long as the court feels the state is no longer interested in prosecuting the case. He discharged the five accused persons, freeing them, setting aside their bail conditions," said Sibande.
According to Sibande, the five are free to sue the state for false imprisonment, violation of the right to liberty, costs in attending to bail conditions and other incidentals to the case.
The guards were arrested on their way to work after occupants of then ruling Democratic Progressive Party (DPP) pick-up vehicle alleged the guards had showered insults at the then president.
The vehicle had carried DPP supporters who allegedly insulted the guards first.
Subscribe to our Youtube Channel: