Malawi parliament has today voted to revert to using the old flag in a move that was widely expected.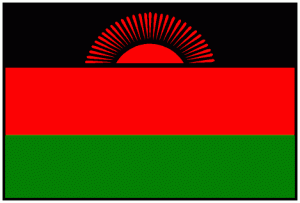 The Members of Parliament sitting in the August House in the Capital Lilongwe has "re-repealed" bill which Bingu wa Mutharika's unpopular government forced on Malawians.
??The flag which has been declared illegal had a full sun which appeared to be blue from distance to signify the DPP colours.
??With the amendment to the bill it follows that Malawi can now revert to the old flag with a rising sun, with the Black, Red, and Green strips.
?? Ironically, MPs who voted in support of the Protected Flags, Emblems and Names Amendment Bill on Monday previously touted the change of the flag when Mutharika was arrive. It sums up assertions that Mutharika, a close partner Roberty Mugabe, was leading Malawi with an iron fist.
??
But Malawians are also questioning the credibility of Malawian MPs regarding who they truthfully represents, as others are calling for the recall provision which will see electorates calling MPs who lose popularity.
This blogger joined others who advocated for the change of the flag
?
Malawi Going to the old flag
Furthermore, not only the flag and other bills which Mutharika initiated which would die with him as other unpopular bills are also on the queue waiting for their turn to be repealed or amended. We are yet to see how long the Party which he ushered after dumping UDF will strive.
Other analysts have predicted that the family based party now being headed by Peter Mutharika, Bingu's brother, might be disbanded during a convention slated in October where participants will agree to deregister it.
????This is particularly that most people who founded the party such as Gwanda Chakuamba, Joyce Banda, Uladi Mussa, Zikhale Ng'oma who was Bingu's right hand man are no longer members. As signatories to the pact which formed the part, such members can challenge continuation of the DPP as a political party which they helped found. This can imply that DPP can be challenged to field a candidate during the 2014 General Elections.
Subscribe to our Youtube Channel: