A Malawian diplomat working with the United Nations Support Office for AMISOM – UNSOA in Nairobi, Kenya was robbed at Lilongwe Hotel in Malawi on 17 June 2012. Mr. Joseph Mwamadi, a Malawi National working with the United Nations arrived in the country on 16 June 2012 and booked at the subject hotel(Room 0217).
Being so excited to meet his relatives, soon after he checked in, he rushed to his in-laws place, that was in the afternoon just as soon as he checked in, leaving his belongings in his room being confident that his suitcases and briefcase were safe.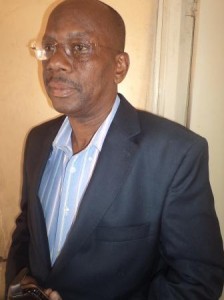 Upon return from there, he recalls being tired and so exhausted that when he went straight to bed in the room whereby, the following day (Sunday) 17 June 2012, he woke up, had breakfast and again rushed to Salima – Malawi Defense Force, where he went to see his son who is undergoing military training, accompanied by his 15 year old daughter.
Upon return from Salima – (MDF) he went to the hotel room where he gave her daughter some perfumes and chocolates that he brought for her and went to drop her at her Grandmothers place and had stayed till late as he had dinner there.
When he returned to the Hotel, he decided to sort out his things as he was to stay in the hotel until 7 July 2012. It's then that he discovered as he opened his brief case that the compartment where I had kept his money (USD 6, 000.00) was missing. He immediately phoned the duty manager of the incident of which he said the management would deal with that issue the following morning.
To his surprise, none of the management called me the following morning until he personally went to push for the issue. He was told by the Hotel Security Officer that it was up to the management to deal with such issues, whereby Mr. Mwamadi did not feel comfortable and immediately, he rushed and reported the matter to Police where he was given three (3) CID officers who went with him to the hotel and arrested the suspects for questioning (The house keeping staff).
None of the three suspects accepted responsibility although they were the ones who had access to the room. Being that they were suspects, they were locked up and later were taken to their respective homes to inspect their homes.
All this was done by Mr. Mwamadi's initiative to hire taxis for the Police to do all that task. The Hotel management never gave in any hand on that. Whilst still under investigations, the Hotel Management tried to send the suspects some hotel food which was denied by the Police to be given to them at the police cell and furthermore, when they were to be taken to court after 48 hrs, the Hotel Management hired a Lawyer for them which is a clear indication of the management harboring its staff on such issues.
The duty manager of that night wrote in his duty book that I had reported the loss of MK6, 000.00 which was a total mistake as all of Mr. Mwamadi's money was in foreign currency – US Dollars. He had no access to any ATM at that time to cash-out Malawi Kwacha as all his salaries are paid in US dollars.
Until now, the money is not recovered.
If he was just there for a day, he could have discovered this somewhere and it could have been very difficult to come back to the hotel to report the incident.
Such incidents, we understand are frequently happening at this hotel and will definitely rumor out of the country, tarnishing bad image of the hotel, the tourism industry and the whole country of Malawi.
As Mr. Mwamadi is crying for his money, I am sure he will definitely have to spread the news wherever he will travel to as he travels a lot around the world if any assistance to recover his money is not rendered by the management as well as the Ministries responsible.
Overseas – International newspapers will publish such bad news which will act as an eye opener to all the tourists who may travel to Malawi, putting Malawi as one of the countries harboring thieves.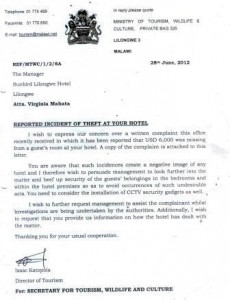 'I therefore request the government to interline in such your issues and any assistance to recover the money will definitely clear the bad image of Lilongwe Hotel and Malawi as a whole' said Mr. Mwamadi.
The Hotel Management was not supportive at all as they depended on Mr. Mwamadi's feedback on the issue instead of playing a leading role. And up to now they incident has not been resolved properly as the money has not been paid back to the victim. Is this how Malawi tourism will treat its customers?? What image are we giving Malawi in the tourism industry?
Subscribe to our Youtube Channel: