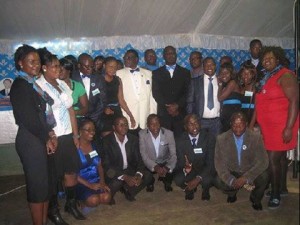 Twelve months in opposition dpp has already lost touch with its supporters,sign s are very clear that dpp is no longer famous and can not command any strong fellowship.
The last friday Lilongwe Capital Hotel Blue night dinner dance spoke volume for dpp populous, no one can refute this, despite wide advertisements in almost leading radio stations the dpp Blue night failed even to attract 60 members.
At 22hrs when Peter Mutharika was arriving 39 people were seen seated,this forced organisers to go out and fetch for some people in bars at least to add up numbers so that they should impress their guest of honour who looked disappointed with the turn up.
One paticipant confided to Greyson Chapita who happened to be among the organisers who flopped the Blue night that "tivomereze kuti chipanichi chasuluka nanga mpaka chonchi zoona, kapena tinene kuti Peter alibe chikoka kapena"

(Visited 6 times, 1 visits today)
Subscribe to our Youtube Channel :
Follow our Instagram