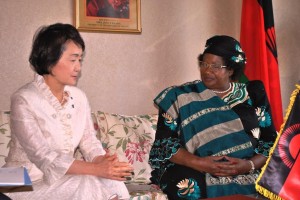 The Japanese Prime Minister, His Excellency Shinzo Abe, on Friday evening hosted a Welcome Cocktail Reception at the Yokohama Royal Park Hotel in honour of African Heads of State and Government and heads of multilateral institutions attending the Fifth Tokyo International Conference on African Development (TICAD V) in Yokohama.
Her Excellency Dr. Joyce Banda, President of the Republic of Malawi, was among the leaders invited by the Prime Minister. Her Excellency President Banda is currently attending the TICAD V, which officially opened on June 1, 2013 at the Pacifico Yokohama.
… In the course of the welcome reception, the President informally interacted with various world leaders, including the President of Liberia and Africa's first woman Head of State, Ellen Johnson Sirleaf and the President of the World Bank Group, Dr. Jim Yong Kim, among others.
The President took the opportunity to thank Dr. Kim for the support the Bank continues to render Malawi, including the announcement on Tuesday by the World Bank Board of Executive Directors of the approved a US$50 million grant (about K16 billion) to the Malawi Government for budgetary support.
Thereafter, the President met Malawians working and studying in Japan and Japanese who once worked and lived in Malawi at a reception organized by the Malawi Mission in Japan at PIA Yokohama.
The President encouraged the Malawians to be genuine Malawi ambassadors in Japan by being disciplined and hardworking. The President also briefed the Malawians on the developments taking place at home in social, economic and political spheres. Her Excellency reported that after taking bold, painful but necessary economic reforms, the Malawi economic was on the road to genuine recovery.
Her Excellency thanked the Japanese who once worked and lived in Malawi for their valued contribution to the social and economic development of Malawi. He singled out the Japan International Cooperation (JICA) Overseas Volunteers for their "selfless service to our country since the early 1970s". The Japanese presented a gift of two books—a collection of African Poems and a Japanese, Chichewa Dictionary—to Her Excellency the President.
Other speakers at the ceremony were Dr. Louis Nthenda, Chairperson of the Association of Malawians Living in Japan, a representative of the Japanese Society of Malawi, Deputy Foreign Affairs Minister Ephraim Abel Kayembe and Malawi's Ambassador to Tokyo, Brigadier Rueben Ngwenya.
Earlier before the two engagements, the Mayor of the City of Yokohama, Fumiko Hayashi paid a courtesy call on Her Excellency President Banda at her hotel to "thank the President for graciously accepting to present a Keynote Address at the TICAD V official side event—International Symposium on Women's Leadership and Economic Growth".
(Visited 3 times, 1 visits today)
Subscribe to our Youtube Channel :
Follow our Instagram