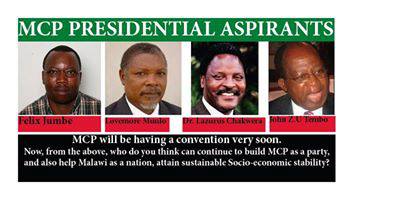 Its confirmed the much awaited Mcp convention will be held on 2 August 2013.
Meanwhile, opinion poll carried out by our reporters in selected parts of the central region tip veteran politician JZU Tembo as most likely to win.
Malawi Congress Party (MCP) has confirmed to Malawi Times that it will hold its long awaiting CONVENTION on 2 August 2013. The Convention will run for 3 days and delegates shall lodge at Natural Resources College, Lilongwe Hotel, and the 5star Hotel. The venue is at BINGU CONFERENCE CENTER in Lilongwe.
TUMBUKA
Chipani chakususka boma cha Malawi Congress Party (MCP) chizamuchitiska ungano wake wukulu (convention) pa 2 August chakac chino.
Ungano uwu wamukuwa wamadazi ghatatu pera,ndipo chipani ichi chamusola wimiliri mumaudindo ghakupambanapambana nga niuyo wazamwimira chipani ichi paupresident namipando yinyakhe.
Ungano uwu wamuchitikira ku Bingu Conference Center mumuzinda wa Lilongwe.
Subscribe to our Youtube Channel: