The Anaconda is really an intimidating sight to behold, really big and fearful creature that is usually found in South America.
However, there are claims coming in on the backdrop of controversies though, that an Anaconda has been killed in Africa! It is claimed that it took them 37 days to kill the Anaconda.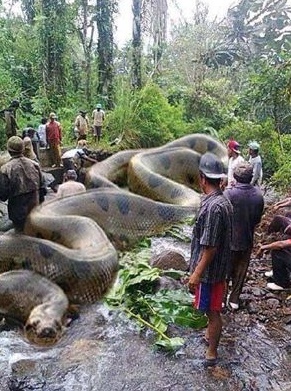 According to a website which had a photo of the Anaconda, it was found in Africa's Amazon River and has killed 257 human beings and 2325 animals. It is 134 feet long and 2067 kgs. Africa's Royal British commandos took 37 days to get it killed.
Alot of Nigerians have however questioned certain facts given about the creature such as where it was actually killed, how they got to know the number of people and animals that the Anaconda killed and trust Nigerians, mocked the authenticity of this claims.
A Nigerian has however started an online debate saying it is a blatant lie and the Anaconda must have been killed in South America and not Africa.
He said,
THIS IS A COMPLETE FABRICATION. ANACONDAS LIVE IN SOUTH AMERICA..AND THERE IS NOTHING LIKE AFRICAN AMAZON. D ONLY AMAZON FOREST IS IN SOUTH AMERICA. D SPECIE OF CONSTRICTORS DAT LIVE IN AFRICA ARE D AFRICAN ROCK PYTHON AND IT DOESN'T EVEN GROW UP TO D ANACONDA. EVEN D BIGGEST ANACONDA FOUND LIVING OR DEAD ACCORDING TO VERIFIABLE DATA IS NO WHERE NEAR DIS SIZE. SO THIS IS A HUGE, BIG FRAUD AND FABRICATION. ITS NOT IN AFRICA.
So, are there really Anacondas in Africa?
Subscribe to our Youtube Channel: