The 34-year-old reality TV star, who is pregnant with her second child, shared the snap with her fans on Instagram along with the hashtags #NoFilter #NoPhotoShop #GoodLighting.
She posted the revealing shot to dispel online rumours that she is using a surrogate and captioned it with a long explanation of her transforming figure.
She wrote: 'First they say I'm too skinny so I have to be faking it…Now they say I'm too big so I have to be faking it…SMH!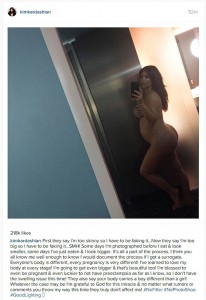 'Some days I'm photographed before I eat & look smaller, some days I've just eaten & I look bigger. It's all a part of the process. I think you all know me well enough to know I would document the process if I got a surrogate.
'Everyone's body is different, every pregnancy is very different! I've learned to love my body at every stage! I'm going to get even bigger & that's beautiful too!'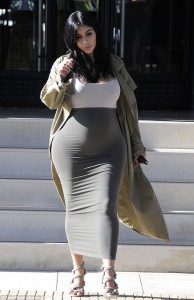 She revealed she is enjoying better health after a difficult first pregnancy with North.
'I'm blessed to even be pregnant & even luckier to not have preeclampsia as far as I know, so I don't have the swelling issue this time! They also say your body carries a boy different than a girl!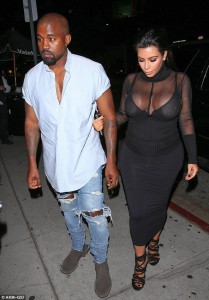 She concluded: 'Whatever the case may be I'm grateful to God for this miracle & no matter what rumors or comments you throw my way this time they truly don't affect me!'
Kim announced her pregnancy at the end of May and revealed on Father's Day in June that she and husband Kanye West are expecting a boy.
The reality TV queen, who is believed to be due to give birth in December, has hired a nutritionist to help her stay healthy during pregnancy this time around.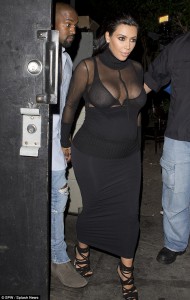 Kim helped celebrate her sister Kylie Jenner's 18th birthday on Saturday night and squeezed into a revealing black ensemble with sheer top to head to The Nice Guy in West Hollywood.
The curvaceous star was accompanied by 38-year-old Kanye as they helped the teen make it a night to remember along with sisters Kourtney, Khloe, mother Kris, her boyfriend Corey Gamble and Kylie's father Caitlyn Jenner.
The following morning, the star wished her youngest sister happy birthday as she shared a photo of the pair posing together.

'Happy Birthday to my fierce baby sister @kyliejenner,' Kim wrote along with the sister snapshot.
Meanwhile, proving again that she's not shy, Kim celebrated reaching 42 million Instagram followers with another seductive selfie on Sunday.
In the revealing snap, the star focuses the camera lens at her chest as she wears a plunging black top and wears thick lip gloss on her pout.
(Visited 237 times, 1 visits today)