A man hiking near a local suicide spot in rural Queensland has snapped a picture of a shadowy figure that some claim is a ghost.
The image, posted to ' Facebook page on Thursday evening, appears to show a bald man, with a short beard, wearing a red jumper standing among a stack of fallen branches.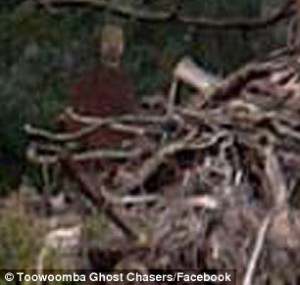 The group claim that a member, who goes by Brokc David, was hiking in a national park near Goomburra, Toowoomba, in rural Queensland, when he started to feel as if someone was watching him.
The ghost hunting group said that while hikers frequent the area, it is rare to see someone dressed in red in the middle of remote bush land.
Mr David said he has been experiencing a 'feeling of dread' since he took the eerie photograph.
'Oddly enough I've been experiencing a similar feeling of dread every once in a while over the last week.'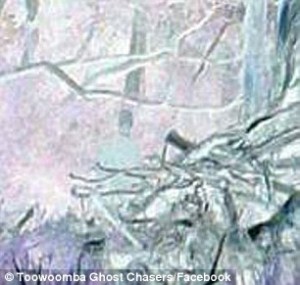 'I'll be walking down the street and all of a sudden feel like something is about to jump out at me from behind a tree,' he wrote on Facebook.
Several people have commented on the photo testifying to its authenticity.
'Definitely a bearded man there in red!' one woman said.
Another man commented: 'Wow that's a great catch.'
Others claim to see several other 'spirits' in the image, including that of two young children.
'Oh boy, in one of the pics there are spirits sitting on tree branches a girl and boy. In the other pictures around the spirit man there are many spirit faces.'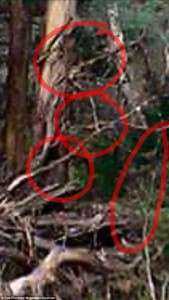 One man even claims he felt a sharp pain in the side of his head while viewing the supernatural image, which makes him believe the man may have been struck before he died.
'Picking up the worst energy from this photo and it's giving me a headache. So much darkness in that area.'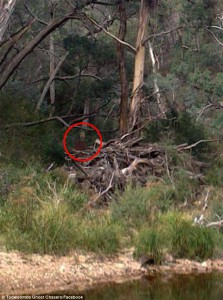 'Picking up a sharp pain in the side of my head so this would be the area that caused someone's death in that photo.'
For those who can't see the unearthly figures, one woman suggests quietly focusing.
'Don't just look but focus, sit quietly and just keep your focus for as long as it takes of course if you're still there tomorrow morning then I'd give up.'
Subscribe to our Youtube Channel: