Two men claim to have discovered an armoured Nazi train full of gold, gems and guns, according to Polish media.
The men reportedly want 10 per cent of the value of the train's contents for the find.
Local folklore says that a train carrying gold and gems went missing at the end of the Second World War near Ksiaz castle – close to what is now the modern city of Wroclaw – as Soviet forces approached in 1945.
The men put in their claim at a law office in Walbrzych.
Marika Tokarska, an official at the district council, told Reuters:
Lawyers, the army, the police and the fire brigade are dealing with this.
The area has never been excavated before and we don't know what we might find.
Local media have reported the train has gun turrets along its side, that it's 150 metres long and may contain up to 300 tonnes of gold on board.
Previous searches for the train have proved fruitless, although local historian Joanna Lamparska said it was rumoured to have disappeared in a tunnel, and that it contains gold and 'hazardous materials'.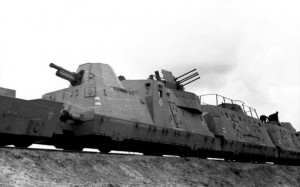 If the finders' claims turn out to be true and they get a stake of the gold, then hats off to these two real life Indiana Joneses.
(Visited 34 times, 1 visits today)