The High Court in Lilongwe on Tuesday was nearly turned to a mourning house as the suspect in the MK105 million money laundering case, Angella Katengeza started weeping as she was called for defence.
The development forced the presiding Judge Fiona Mwale to ask Katengeza's lawyer, Gilbert Khonyongwa to consult his client if there is need for a break to calm her down.
After a brief chart with her lawyer, Katengeza reorganized herself and the case proceeded.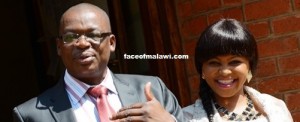 In her defence, Katengeza maintained his earlier stand that she was not part of the move to plunder public funds, contrary to the claims made by the convicted former assistant director in the Ministry of Tourism Leonard Kalonga.
"I have already said that these things [alleged theft of government money] involved people in government. I had nothing to do with it. I was merely being used," she said
During the previous court sitting, Kalonga told the Court that he recruited Katengeza's Faith Construction Company and others to defraud government and share proceeds.
He said Faith Construction later recruited Mchemani Construction as per instructions from then Ministry of Finance budget director Paul Mphwiyo.
ACB Deputy Director Reyneck Matemba argued that the court statement that Kalonga entered before was baseless citing that Kalonga told the court that Katengeza remained with other money that she was expected to give him.
Reacting to the claims, Katengeza blasted it saying she never recruited the said construction.
Meanwhile Judge Fiona Mwale has adjourned the case to October 28 for the State to submit written documents on the claims by Katengeza.
Subscribe to our Youtube Channel: