A 44-year-old mother allegedly seduced a schoolboy by sending him pictures on Facebook of her breasts and bottom before saying: 'Let's get naughty', a court has heard.
Karen Seldon, from Abercarn, South Wales, is accused of having sex with the 15-year-old boy at her home, before the teenager's mother apparently burst in and uncovered the alleged affair.
The court heard how Seldon allegedly sent the revealing images over the social media site to seduce the schoolboy. It is then alleged that she invited him over to her house for sex.
But Seldon denies the affair, claiming it was just a 'sexual fantasy' of the schoolboy, created so he could boast to his friends.
She denies all four charges relating to sexual activity with a minor.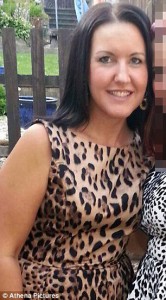 Describing the alleged offences, prosecutor Suzanne Thomas told Newport Crown Court: 'She asked him whether he liked role playing and asked him to send pictures of himself.
'She sent him a message saying: 'Let's get naughty' and asked him to come to her house. She took him into the living room and told him that she wanted him.'
Newport Crown Court heard how, on the second time the pair met, Seldon allegedly drove up to the boy in her car and kissed him.
His mother and aunt then turned up at Seldon's house where they confronted the mother about the alleged affair.
Miss Thomas told the court: 'They drove to her home and they started kissing. They were about to go upstairs when there was banging on the door.'
There was then a confrontation which results in 'a great deal of shouting and scuffling', the court heard.
When he spoke to police, the boy alleged that Seldon – who he said was 'obsessed' with him – had forced him into the car. But he later admitted he 'fully consented' to sex.
In cross examination, defence barrister James Evans accused the boy of fabricating the accusations in order to show off to his friends.
He said: 'Everything you told the police that day about your sexual conquest of Karen Seldon was just your sexual fantasies about her. Nothing actually happened.
'It's something you have fantasies about, things you told your friends to look like a lad and a legend amongst your little peer group, that is what it's really about.'
The boy had previously told police that his friends had called him a 'lad' and a 'legend' for the alleged affair.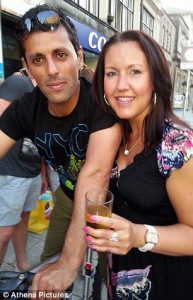 Also cross examined was the boy's mother, who claimed to have found out that her son was at Seldon's house after his friend texted her.
Speaking about the confrontation at Seldon's home, she said: 'She was wearing a black and white dress that barely covered her bottom.
'She asked me if she could put some clothes on so I gave her a throw and said to her that she didn't mind flashing her private parts to my son.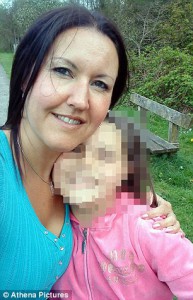 'I asked her what she was doing with my 15-year-old son and she said she was sorry and had made a mistake.'
The case at Newport Crown Court continues.
(Visited 385 times, 1 visits today)