Veteran Musician cum-politician Lucius Banda has commended Malawian prophet Shepherd Bushiri currently based in South Africa for his charity works across the country.
Bushiri, popularly known as 'Major 1' arrived in the country on Thursday last week through Kamuzu International Airport (KIA), saying he is in the country for prophetic tour and he promised to assist flood victims with MK40 million.
Proving his promises, Bushiri went straight to his home village where he visited his Maize farm and donated money amounting to Mk1, 000,000 to Sub T.A Zolokele for a school project and he promised to square the remaining balance in a month to come.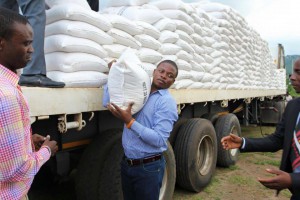 "I have always encouraged people to invest in Agriculture. God wants us to work hard our faith. The bible says; faith without works is dead. I declare that this year the Lord shall give you plans of investments and they shall all be successful in Jesus name," said Bushiri after visiting the farm.
The development started to attract attention of many Malawians with Lucius Banda taking the issue on the social media, saying Bushiri's action is his religion.
As this was not enough, on Tuesday Bushiri visited Ntcheu one of the districts worst hit by hunger where he distributed maize.
"Thanks be to God for so many souls which were touched by Him on this day.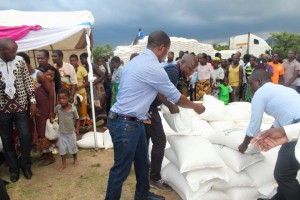 "Be the hand of God,touch others who are praying for that hand. I pray that God should provide you with resources which you can hurry with to those in need," wrote Bushiri on his official facebook page after the exercise.
"I am a staunch catholic; there are a number of things we differ on, in principle and belief. We are like rail we cannot meet though we go the same direction. I have seen crowds of people it didn't move me. I saw convoys and parades of police band it was nothing to me. I have heard about miracle money I said wow! Good for them. But what makes me write this is I have seen Prophet Shepherd Bushiri giving money to the needy giving food to the hungry.. That is my religion!!!" wrote Banda on his Facebook timeline.
Meanwhile many Malawians have joined Banda in commending Bushiri for his charity works in the country.
Subscribe to our Youtube Channel: