Malawi Communications Regulatory Authority (MACRA) has given Times Group a 7-days ultimatum to explain as why Times radio and TV changed programmes on January 13, 2017.
Malawi Revenue Authority (MRA) closed down Times Group on Friday last week over failure by the company in paying tax that accumulated to K675, 989,316.75, taxes amounting to K504, 962,332.87 and penalties that have gone together with interest amounting to K171, 006,983.89.
The development forced the owners to suspend programmers on radio,TV and production of Malawi News which comes out on Saturday.
Instead the radio station resorted in playing music while the TV station was re-broadcasting materials from British Broadcasting Corporation (BBC).
The development did not go down well with MACRA hence the ultimatum.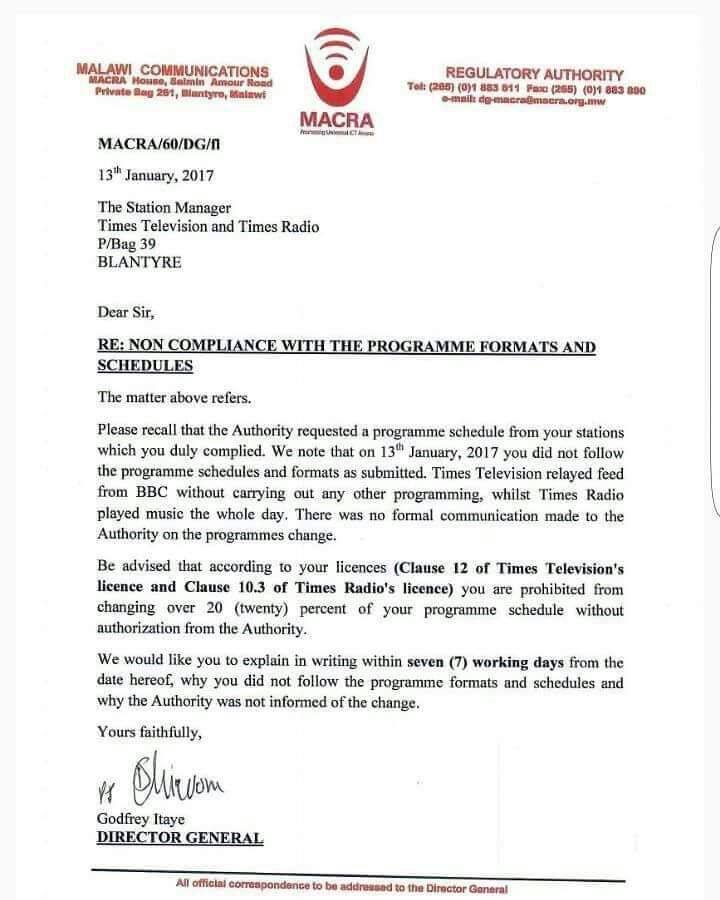 "Please recall that the Authority requested a programme schedule from your stations which you duly complied. We noted that on 13th January, 2017 you did not follow the programme schedules and formats as submitted. Times Televison relayed feeds from BBC without carrying any other programming, whilst Times Radio played music the whole day. There was no formal communication made to the Authority on the programmes change.
'ÄúBe advised that according to your licences (Clause 12 of Times Television'Äôs licence and clause 10.3 of Times Radioo'Äôs licence) you are prohibited from changing over 20 percent of your programme schedule without authorization from the Authority,'ÄĚ reads in part the statement.
Continues the letter addressed to Times : 'ÄúWe would like you to explain in writing within seven (7) working days from date hereof, why you did not follow the programme formats and schedules and why the authority was not informed of the changes.'ÄĚ
Meanwhile Times Group is yet to respond on the matter.
(Visited 6 times, 1 visits today)
Subscribe to our Youtube Channel :
Follow Us on Instagram