Eman Ahmed, 36, had weighed 75 stone but doctors reduced her stomach by 75 per cent in the operation at Saifee Hospital in Mumbai in India two days ago.
She had already lost 18 stone before the operation but doctors are now monitoring the further weight loss ahead of flying her back home to Alexandria, Egypt.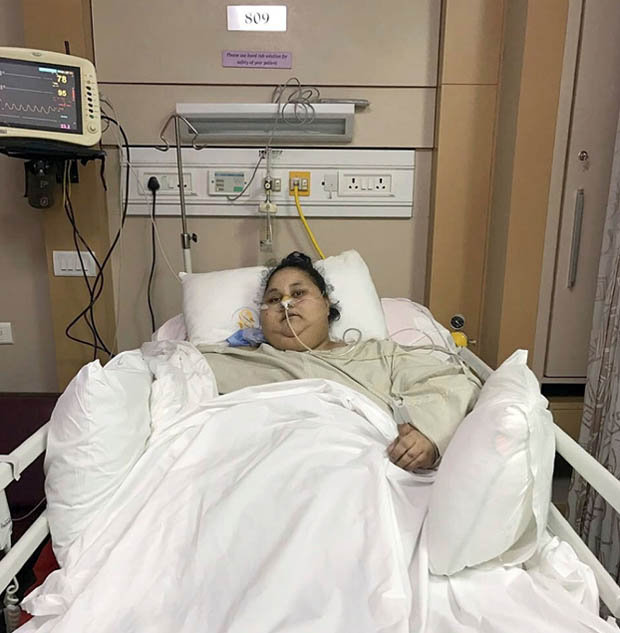 Ahmed has been in hospital since February 10th when she was moved out of her home for the first time in 25 years by removing the wall from her room and a crane lifted out her bed. She was then flown in a cargo plane to India.
A spokesperson at the hospital said: "Eman successfully underwent a Laparoscopic Sleeve Gastrectomy.
"She had an uneventful surgery and anesthesia course. We will attempt to reduce at least 200 kilos (30 stone) in the first six months.
"She is now on oral fluids and accepting them well. We are working on to correct all her associated medical problems so she gets fit enough to fly back to Egypt as soon as possible."
Doctors are deciding the future course of action once she is stabilized.
They are also awaiting Ms Ahmed's genetic test results to understand if a genetic disorder might be responsible for obesity.
By the time she turned 11, she was too heavy to support her weight standing up, and resorted to crawling in her home on her knees.
Eventually Ms Ahmed lost the strength to move on her own and was bedridden for 25 years.
She was so fat that a wall of her room had to be brought down to help her bring out.
After a seven hour flight, she was placed in a mini truck at Chhatrapati Shivaji International Airport and transported to the hospital in a specially equipped truck.
Ms Ahmed was accompanied by her sister, Shaimaa Ahmed, and a team of doctors from the hospital.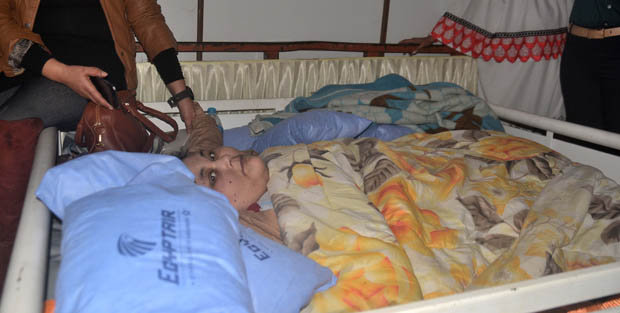 A team of 16 specialists and over eight nurses are looking after her.
The hospital is providing free treatment to Ms Ahmed and already has spent 25 million pounds in building an infrastructure to house her for the next six month.
The hospital has so far collected around 6 million pounds through crowd sourcing. Following a bariatric surgery, patients can lose up to 75 per cent of their body fat in a year.
For Ms Ahmed, the doctors hope to make her lose around 440 pounds in the next six months.
(Visited 6 times, 1 visits today)
Subscribe to our Youtube Channel :
Follow our Instagram