Is this really blaspheme?
Students at one University in Nigeria had their costume day over a week ago.
Photos of an Obafemi Awolowo University student dressed as a sexy nun surfaced on social media, and it has since been causing media reaction.
According to Comment Session, the school held their annual Costume Day and the final year student stepped out in the controversial outfit.
Not long after, her photos appeared on social media, and angry, religious zealots have been calling her names, accusing her of 'blasphemy'.
Well, for a University student whose outfit is now causing raves, shouldn't her attempt be simply received as a costume that it is?
See her full photo and peoples reactions below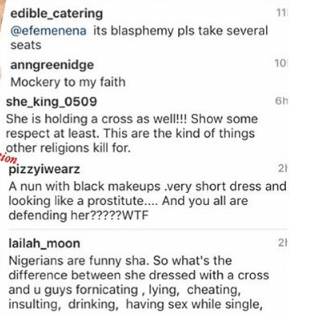 (Visited 153 times, 1 visits today)