Harrowing pictures capture a grandmother's heartbreaking reaction to the discovery that her two grandsons were killed in a shooting in Chicago.
Georgia Jackson, 72, appeared distraught upon learning that her grandsons, Raheem, 19, and Dillon Jackson, 20, were found fatally shot near Nadia Fish and Chicken, in the South Shore neighborhood.
Authorities say a man approached the restaurant and opened fire on Thursday.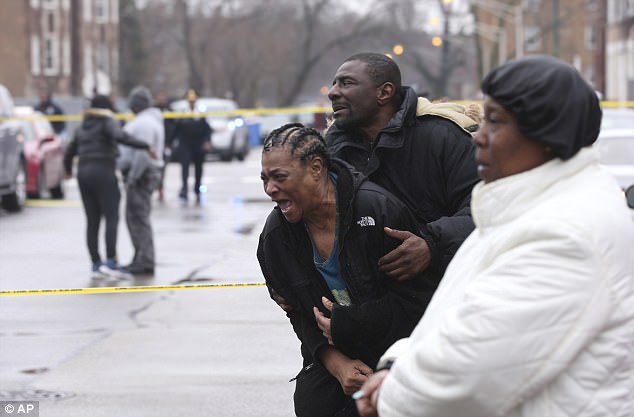 Two men, 28-year-old Emmanuel Stokes and a 21-year-old man, were found dead from bullet wounds inside the restaurant, the Chicago Sun-Times reported.
Raheem and Dillon, who are brothers, fled on foot while shots broke out and were each shot in different parking lots nearby, according to the newspaper.
All the victims were pronounced dead at the scene. The identity of the fourth victim was withheld pending notification of family.

Georgia Jackson told the Chicago Sun-Times that her grandsons had gone to see their mother, who works at the restaurant.
The grandmother told the newspaper: 'They were shooting at somebody, they say, inside the restaurant. My boys just got in the way, I guess.'
Raheem's sister-in-law Shauna Jackson told the Chicago Sun-Times that Raheem is survived by his two sons, a one-year-old who will turn two on Sunday, and a five-month-old.
Chicago police spokesman Anthony Guglielmi said in a Thursday tweet: 'Incident believed to be gang related retaliation from another incident.'
'Detectives making good progress in investigation,' he tweeted.
Earlier, about a mile from the restaurant, the body of 26-year-old Patrice L. Calvin was discovered in a home.
The medical examiner's office says Calvin, who was four months pregnant, suffered a gunshot wound to the head.
She was expecting her first child, NBC Chicago reported.
Her father Aaron Calvin told the station: 'My daughter was carrying my grandchild. That's two people dead.'
The woman's brother dialed 911 when he was unable to get in touch with her, according to the NBC affiliate.
Police say no arrests have been made.
(Visited 5 times, 1 visits today)
Subscribe to our Youtube Channel :
Follow Us on Instagram