The world's heaviest man has been discharged from hospital after undergoing stomach surgery to help him lose weight.
The man, Juan Pedro Franco, 32 said: 'I hope everything is going to be fine, without problems, and that I will be able to do everything and that it works properly, doing what I am being told to do and what I have to do'.
He is from the city of Aguascalientes in Mexico, weighs 420 kilogrammes (926 lbs) and underwent surgery on 9th May to reduce his stomach so that it would have the capacity of a glass of wine (around 25 centimetres) instead of the five-litre capacity it had before.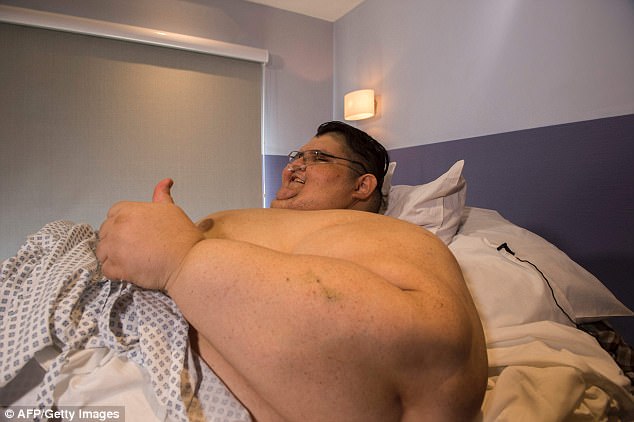 Franco received the press lying in bed in hospital, smiling and making jokes with the hospital staff with whom he usually sings and plays his guitar.
Jose Antonio Castaneda, the doctor who treated Franco, said that his recovery is 'favourable' and that he has had a surprisingly good 'evolution' since the first day of surgery.
The doctor said: 'He had an excellent evolution after surgery, and a proper recovery. We did not think he would recover this well, but the truth is that he gave us a good surprise in the medical area'.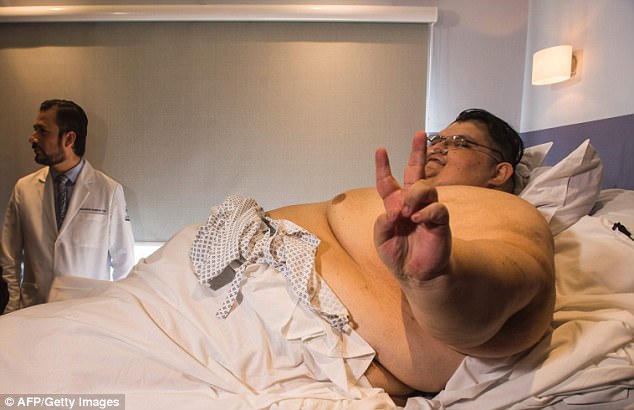 The doctor also explained that Franco will also need to undergo a second operation in six months, when he will have a gastric bypass that will help him solve his obesity problem.
The doctor added that Franco still has 'high possibilities of suffering problems from his extreme obesity'.
The case of Juan Pedro is a medical advancement, especially in a country such as Mexico, which has the highest rate of obesity in the world.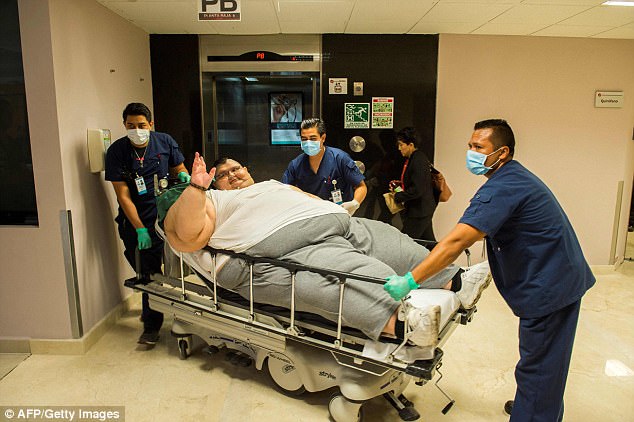 Franco dreamed of being able to walk again after being trapped in a bed for years. He has felt some changes in his body after the operation and said: 'I move a bit better, I breathe better now, I can speak without problems.'
He added: 'I told people who are suffering from the same problems as me that they should talk and that they should not feel sad or bad to ask for help if they cannot do it by themselves.'
Franco from Aguascalientes is almost as obese as Mexican man Manuel Uribe – who was once considered the world's fattest man before he died in 2014.
Franco first made headlines in November when he was admitted to the clinic after making the trip via a specially-adapted van to the western city of Guadalajara, Jalisco.
Using special equipments and a special ambulance he was removed from his house and taken to hospital, Xinhua news agency reported.
Franco has been fat all of his life, but he got even bigger following a car crash at the age of 17.
He is from the small Mexican state of Aguacalientes and has been in Guadalajara for his treatment over the last couple of months.
source:mailonline
Subscribe to our Youtube Channel: