Civil servants in the country will join the ongoing teachers' strike on Monday under the Civil Service Trade Union (CSTU) to protest against the 10% salary increment that the government has offered to them in the 2017/18 budget.
The 10% increment which was presented by the minister of finance, Hon Goodall Gondwe is facing a denial as the CSTU members are saying the hike is little that it cannot meet their living costs.
The CSTU General Secretary, Madalitso Njolomole disclosed that the workers are to refrain from their duties if the Malawi government fails to approve the minimum salary of K75.000 per month they need.
He further added that they are planning of meeting with the Chief Secretary to the government Lloyd Muhara on Friday this present week.
The CSTU members had mobilized to gather to protest the increment at Capital Hill in Lilongwe but they were blocked by police.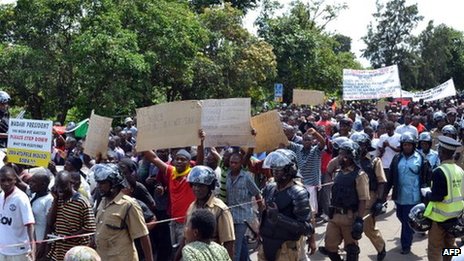 For trying to coax Capital Hill workers, two CSTU members were arrested by armed police officers.
Government`s failure to pay teachers their arrears has also witnessed teachers dodging their duties as some students are left with no choice but to be playing at school hoping that teachers are to attend to them soon.
As that is ongoing, Academic staffs at Chancellor College (Chanco) are demanding equal salary with fellow lecturers at College of Medicine (COM).
Subscribe to our Youtube Channel: