Nigerian highly placed cleric, founder and General Overseer of the Kingsway International Christian Center, KICC, Pastor Matthew Ashimolowo has shocked his viewers after he compelled his congregants to give a thousand dollars for every year each of them had lived on earth.
Pastor Ashimolowo already is worth over $10 million.
He demanded in a church service that his members give what he described 'Äúthe seed of Glorious expectation'ÄĚ, which is according to the number of years they have lived on earth.
Kingsway International Christian Center is located in the United Kingdom with branches in Nigeria.
The pastor said in the video, "For every year you have lived on earth, I want you to give a N100… No sorry, a N1000 naira.
"If you have lived on earth for 35 years, you give N35,000. You have lived 60 years, you give N60,000.
"Those who are paying in dollars to the left while those paying in naira to the right.
"Thousand dollars to the left, thousand naira to the right, those that are doing the both, to the middle.
'ÄúGet out of your seats.'ÄĚ
The video was shared by controversial Nigerian On Air Personality, OAP, Daddy Freeze, who has always frowned at the ways men of God in Nigeria live flamboyant lifestyle, while their members suffer to pay tithe and offerings.
OAP Freeze wrote, 'ÄúNigerians, their IQ of 67 and their men of God. Come and give a thousand dollars for every year you have lived?'ÄĚ
'ÄúCan you show me anywhere in the Bible where Jesus used this 'Äėfund raising'Äô approach? I remember 5 loaves and 2 fishes but 1000 dollars?'ÄĚ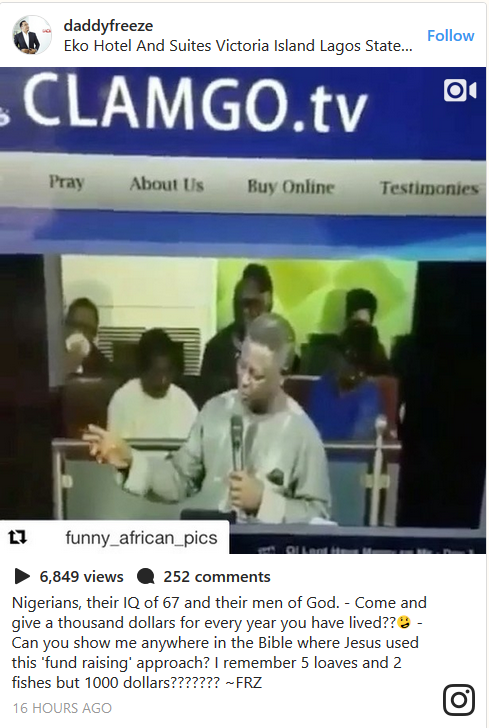 -copied
(Visited 33 times, 1 visits today)
Subscribe to our Youtube Channel :
Follow Us on Instagram