A couple murdered a 20-year-old pregnant woman in a bid to rip her baby from her womb and steal it in Brazil.
22-year-old Joelma Queila Santana da Silva, and 18-year-old Alex da Silva Carvalho (pictured below…) met the victim on her way to visit a doctor.
The victim, who was 37 weeks along, followed the woman and man who then took her to have a drink at a local cafeteria. Once there, they distracted her and Joelma put a date rape drug into the pregnant woman's drink, causing her to pass out. They then took the woman to a forest area where they used a knife to open up her belly and remove the fetus. The victim died on the spot.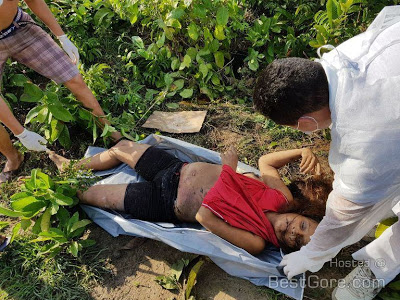 The incident occurred in the municipality of S√£o Sebasti√£o do Uatum√£, state of Amazonas, Brazil. When asked about the motive for the crime, Joelma said that she could not get pregnant but wanted very much to have a child. So she used her influence over young and immature Alex to get him to participate in the heinous crime.
The corpse of the woman was found by the residents in an area near a place known as 'ÄúCampo de Pelada Pimenta'ÄĚ, in the neighborhood of Paz. They alerted the police and this led to an investigation. The baby reportedly survived and is being treated in the Itapiranga hospital.
(Visited 93 times, 1 visits today)
Subscribe to our Youtube Channel :
Follow Us on Instagram