People from Mmotla North West in South Africa are so blessed to have what they call river of luck and healing which they visit to wash off their bad luck and restore their hope in the future as the water comes from the mountain.
They believe that a star fell into the Soutpan Mountains 1000 years ago and gave the healing powers.
Believers travel from far areas to wash in the holy water. Witchdoctors, prophets and pastors believe the water that flows from the mountain brings good luck and heals the sick.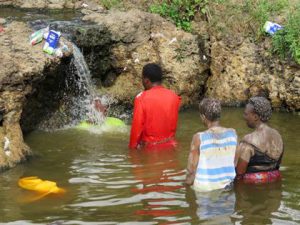 Prophet Moses Chihlangu from Tshwane told Daily Sun: "The water is powerful and pure. That's what makes us come here often."
When the SunTeam visited the river, the prophet was there with three clients who wanted to be cleansed.
"Some of them want men, others want their businesses to flourish and others just want to succeed in life," he said.
He said he used to cleanse his clients at a river in Atteridgeville, Tshwane but he moved after several bodies were found there.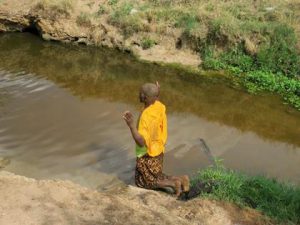 Not far from where the prophet and his clients were performing a cleansing ceremony, there were people collecting water in big containers. They said they washed with the water and drank it so they could be cleansed.
Maria Somo, who was collecting water, said: "I used to have problems with my feet but now they are healed. It's all about belief."
Another happy believer said witches had harassed her for years but after using the water, she could live in peace.
(Visited 427 times, 1 visits today)