A man who thought that turning into a vegan and drinking his own urine would cure him of his HIV has been gravely mistaken.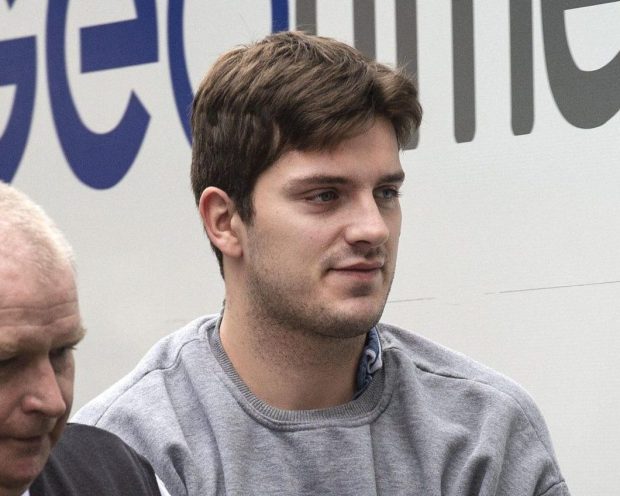 A hairdresser on trial for deliberately infecting his sexual partners with HIV has said that he drank his own urine believing it would cure him.
Daryll Rowe denies infecting his victims and says he can't remember sending a text message to one of them saying: 'I have HIV. Lol. Whoops'.
He told a jury he could not recall most of the conversation he had after having s*x with his first alleged victim. But he said the messages were 'just nasty' and would have been written 'just to get a reaction.'
But he repeatedly told jurors he could not remember conversations in which he was warned he was highly infectious, that he could be prosecuted for passing on the virus, and that he was more likely to give it to someone else after also contracting sexually transmitted disease gonorrhoea.
Prosecutor Caroline Carberry QC said this, and his claim he thought alternative urine therapy was curing him, was a 'nonsense' to explain the 'campaign' he embarked on to infect men with HIV.
Referring to drinking his own urine, he asked: 'Why would I do it every single day if I thought it was nonsense?'
Ms Carberry replied: 'Because you didn't want to treat this infection, for whatever reason.'
He replied: 'I wanted to cure it, I thought I was curing it.'
Rowe conceded he did lie to a doctor after being told of his diagnosis when he said he would not have unprotected sex.
He also told the court he did not read literature given to him about his illness because he did not trust the methods of medical professionals and that he did not seek any treatment before moving to Brighton.
He said he felt 'too embarrassed' to tell his doctor about the alternative urine therapy he was trying instead, adding: 'I felt pressured into taking the (antiretroviral) medication.'
He accused the doctor of 'mocking' his healthy vegan lifestyle which he believed would help combat the virus, the court heard.
He said he did not want to tell anybody about the alternative therapies he was trying.
The 27-year-old, originally from Edinburgh and now of no fixed address, is on trial at Lewes Crown Court facing allegations he deliberately tried to infect ten men with the virus.
On Thursday during cross examination he said he did not remember sending a string of abusive texts messages to his first alleged victim, including one which said: 'I have HIV. Lol. Whoops.'
Ms Carberry claimed this was the start of his 'campaign' to infect men.
She said: 'It's convenient for you not to remember this text because you know this text is a very damning text.'
Rowe replied: 'It's the truth. I can't tell you what I think of the message because I can't remember sending it.
'It's this whole conversation I don't remember starting. I didn't give the messages much thought.
'Most of the messages are just really nasty and to get a reaction from the other person. I did not mean any of it. I didn't believe I had HIV at the time.'
Most of the men who gave evidence in court said Rowe told them in person that he was free from the virus.
He accused them of lying. He said the conversations never happened, but did admit lying to one of them about having a negative test result and being clear of the virus.
Ms Carberry suggested there were two sides to him – someone who could be a 'very charming, very obliging, really nice person' and a 'nasty, angry individual'.
He said: 'That doesn't represent me as a person.'
Prior to moving to Brighton, East Sussex, where he met eight of his alleged victims, he was diagnosed with HIV and spoke with doctors and health professionals at an Edinburgh clinic on several occasions.
Rowe was infected after having casual unprotected sex with a man but he was not angry about the diagnosis, he told jurors.
He repeatedly said he believed he would be able to cure himself, and already thought he had done so before moving to the South East.
After the court heard he used a lip filler, Ms Carberry asked Rowe if he was 'vain', adding: 'I'm just trying to understand how this sits with your natural, vegan approach to your life.'
He said he was insecure about how his top lip looked and he believed the injection was natural.
Rowe denies ten charges – five counts of grievous bodily harm with intent and five counts of attempting to cause grievous bodily harm with intent.
He will return to the stand tomorrow as the trial continues.
***
Via Metro UK
(Visited 13 times, 1 visits today)
Subscribe to our Youtube Channel :
Follow Us on Instagram