Oscar Pistorius, a South African Blade Runner who was imprisoned after shooting to death his girlfriend on Valentine's Day in 2013 has reportedly been beaten by fellow inmates at Atteridgeville Correctional Centre.
According to inside sources who provided South Africa`s online news Daily Sun with information of the story, Pistorius was assaulted after other prisoners got irritated by his long phone calls.
It is alleged that Pistorius had spent so much time talking on the prison`s public phone speaking to his lawyer as other prisoners were waiting to make use of the same phone to communicate with their relatives.
"Other inmates who were queuing to use the phone got angry, but Pistorius wouldn't budge and that's when a fight broke out," reported Daily Sun.
The prison`s spokesman Ofentse Morwane said Pistorius had sustained minor injuries following the assault.
"Oscar Pistorius sustained a minor injury. An internal investigation will establish the facts and ensure that appropriate action is taken as incidents of assaults are not allowed."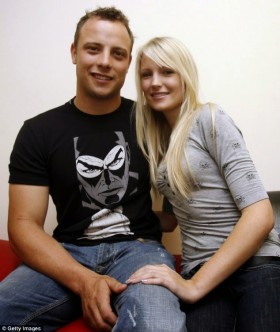 Pistorius has apparently been on the phone a lot since the Supreme Court of Appeal in Bloemfontein extended his sentence to 13 years, after the State applied to have his initial six-year prison increased.
North Gauteng High Court Judge Thokozile Masipa initially sentenced him to five years for culpable homicide in 2014.
His case got widely known around the planet prompting American film makers to make a movie from his story.
Subscribe to our Youtube Channel: