Prophet Rabalago of Mount Zion General Assembly in Limpopo, South Africa, has been arrested and charged to court on a 5 count charge of assault and contravening environmental laws, after congregants he sprayed with an insecticide, suffered health challenges.
20-year-old Thabiso Chabalala who testified against him in court, said she spent seven months coughing and with swollen eyes.
According to her, she only came forward to be prayed for, after the Pastor who was captured spraying congregants with insecticide in November last year, called for sick people.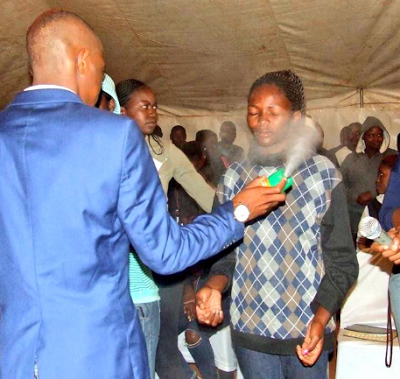 "I was taken by surprise. I thought that was how God instructed him to conduct the healing," she responded to Presiding magistrate Frans Mahodi question of how she felt when she saw Rabalago holding the insecticide can. "I regret it," she further said.
Also a 17-year-old Grade 11 pupil, said he got help from a clinic after Rabalago sprayed him with the doom insecticide which made his neck painful to turn. However Rabalago's defence lawyer, Edmond Lubisi, said his client who claimed the insect killer will heal people with cancer, HIV or any other illness, had never met the teenager.
"It is my client's version that he does not know you or remember seeing you at his church," Lubisi said.
Catherine Mabitsela, a legislation chief inspector at the provincial department of agriculture, testified that Rabalago's practices were misleading.
According to her, the Prophet didn't use the product according to regulations.
Subscribe to our Youtube Channel: