Several reports lined in reporting the disturbing moment where a man has been caught on camera working in the gym next to his ex-girlfriend just minutes before he brutally stabbed her to death.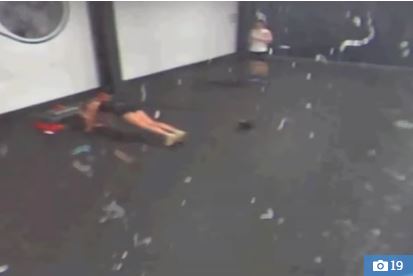 According to The Sun UK  which reports:
"Joshua Stimpson – who has admitted manslaughter – was caught on CCTV buying the knife that would end Molly McLaren's life two days before he joined her in the Kent gym.
In the footage, shown to the jury, the now 26-year-old is seen walking – with two knives and a pickaxe in his bag – into the same exercise room as his ex and laying down a mat nearby her.
The 23-year-old notices him and walks over to speak to him, before Stimpson leaves.
Later the footage captures him climbing back up the stairs to the room, with a bottle of water, peering through the door and then turning back.
He is then seen holding a gym bag and walking out of the gym into the Chatham Dockside Outlet car park where Molly would be killed.
The court was also shown chilling footage of Molly leaving the gym while typing something on her phone, and police footage of Stimpson in a bloodstained vest.
Stimpson, who admits manslaughter but denies murder, was arrested at the scene.
Yesterday the jury heard Molly told her ex "are you following me now?" as they worked out, before she messaged pals moments before she died to say: "Feel like I'm looking over my shoulder all the time."
The court heard she also sent a text to her mother, Joanne, at 10.45am saying "Mum he's turned up at the gym and come next to me".
In a subsequent phone call Mrs McLaren told her daughter to go straight to the family home in Cobham, near Gravesend.
Jurors were told she tried to call 20 minutes later but got no reply.
Minutes later, Molly was repeatedly knifed in the neck and head, the court heard yesterday.
Describing Molly as the most loving daughter with a heart of gold, Mrs McLaren said: "I feel completely numb and broken. It doesn't seem real.
"How could Josh leave my beautiful daughter dead in a car park. At the moment I just feel complete emptiness."
The court today heard a woman who met Stimpson through Facebook thought he was "obsessional and strange".
Alexandra Dale, who gave evidence over a TV link, said after she broke things off with him he called her repeatedly and she found her car tyres had been slashed.
Molly told her mum she had seen posts online from Stimpson after they broke up which said "there's more to come", and the pair were so concerned they circulated photos of him to neighbours, the court heard.
As CCTV of the shopping outlet car park was shown, with a time of 10.58am, prosecutor Philip Bennetts said: "By this time the defendant must have been watching her, waiting for her to come out.
"Waiting as he drives slowly along, waiting for the moment that he has carefully considered to kill her."
He added: "It's a matter for you whether he has, from the purchasing of the knife to going there (the gym) that day, because he must have known she would be there, whether he has carefully considered that execution of Molly."
A jury was shown a blood-soaked Asda knife which it is claimed Molly was stabbed to death with by "manipulative and nasty" Stimpson.
Police allege that a witness to the attack, Benjamin Morton, tried to pull the 26-year-old off Molly as she screamed.
It is also said that he tried to close the car door on Stimpson's leg which was hanging out of the vehicle, but he moved inside and carried on his attack.
Mr Morton is alleged to have later told police Stimpson was "continuously" stabbing the second year University of Kent student, mainly in the neck area.
He claimed: "It was like a frenzy, he was doing it again and again."
In custody Stimpson was seen by a mental health nurse and when asked if he had had thoughts about harming Molly before the killing he allegedly replied: "Maybe yesterday but I didn't act on them."
Asked about whether he had been experiencing any difficulties with his thoughts, he allegedly said: "I must have or I wouldn't have done this."
At the start of the trial at Maidstone Crown Court in Kent yesterday, Mr Bennetts QC told the jury of seven men and five women: "The defendant has pleaded guilty to manslaughter on the basis that at the time of the killing he was suffering from diminished responsibility.
"The prosecution do not accept that he was."
The court heard Molly and Stimpson started dating in November 2016 after meeting through Tinder but briefly split four months later.
She finally ended the relationship for good on June 17, just 12 days before she died.
In the intervening days the window firm warehouse worker began posting derogatory comments and photos about the part-time barmaid on Facebook, it is alleged.
These included lies about her using cocaine and he tagged people so that all her family could see.
Molly reported the posts to police on June 22. Stimpson, of High Street Wouldham, near Rochester, Kent, was spoken to but it allegedly continued.
The previous day Molly had told a relative she feared he would hurt her.
Mr Bennetts said yesterday Stimpson "may or may not" have also been stalking Molly after their break-up, but he did begin to follow her.
Two days before the alleged murder Stimpson had joined the nearby Nuffield Gym at Medway Valley Park, where Molly had applied for a receptionist's job a week earlier.
That same day, he bought a Subatier paring knife from an Asda store in Chatham. It was found on the driver's seat of Molly's car after she died.
Police also allegedly discovered a Saxon pick axe in Stimpson's car. It had also been bought on June 27.
The night before she died it is alleged Stimpson also turned up to the same pub, The Ship and Trades, at an outlet centre where Molly was with friends.
Stimpson, wearing a blue suit, shirt and tie, sat impassively in the dock while the case was opened yesterday.
The court heard that he told a work colleague he suffered from bipolar disorder.
His family were in the court public gallery as were Molly's parents, Douglas and Joanne.
Stimpson denies murder. The trial continues."
Subscribe to our Youtube Channel: