A Malawian woman who died aged 19 in 2015 and was laid to rest in the same year has been found alive in Mzuzu.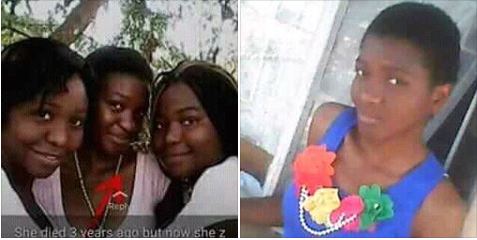 The woman identified as Eunice Monjeza is said to have had a dark skin when she died but she has re-appeared with a light skin and looks grown up than she was when she died.
Reports say during that year, the girl was schooling at Skyway Private Secondary School in Mzuzu. At one time when she was at the school, she attended a SCOM meeting and felt headache pains while in the meeting and she was taken to Mzuzu Central Hospital where she died just after an hour.
Even though her family organized a burial ceremony in her home district in Mulanje, the mother to the deceased failed to believe that her daughter had just gone easy like that hence she started going around seeking real answers from both traditional doctors and religious people.
In the process, a herbalist from Mozambique told her that Eunice was not dead and that what they buried during her burial ceremony was a Banana Stem which was magically used to brainwash the family.
It is alleged that the herbalist also told her that the girl had been adopted by her dad's relations and that she was then working for them through witchcraft ways.
The family did whatever they could to find money that the herbalist had demanded to be paid in order to return the girl.
After a long process, the Mozambican herbalist brought the girl to her family's house in Mzuzu this April.
The family which has a Roman Catholic Faith decided to hold a thanks giving mass at their residence in Katoto in celebrating their daughter's return where also this shocking story was told.
However, one woman who attended the ceremony reported that the girl's skin has transformed to light skin and she has grown up.
(Visited 20 times, 1 visits today)
Subscribe to our Youtube Channel :
Follow Us on Instagram