A female Zambian police officer who was recently shot dead by her husband who also later shot himself was allegedly promiscuous to the extent that on the material day, she was found with a used condom wrapped in a tissue in her handbag as revealed by a sister to the deceased' husband.
Last week, we reported on this story whereby the husband, Tyson Mwabe who was a soldier shot his wife, Esther Mulobwa a police officer, and locked himself in his house then later shot himself too over reasons that were not known.
Now according to Zambian Observer, Christine Mwape  Mpemba, sister to the deceased husband has revealed that her brother disclosed to her that Esther was drunk after having delayed to get home. She was allegedly found at the office after 19:00 by her husband when in fact her duty was ending at 16:00.
"On the material day Tyson was working from Mulungushi University and when he knocked off after 16:00 , he found that his wife was not at home so he went out and again returned an hour later but still found the woman had not yet returned and after the fourth unsuccessful check he decided to follow her to Kabwe central police where She was working from and found her in the office around 19:00 . When he asked her she claimed that had extra work to do but this infuriated Tyson as the woman was apparently looking drunk and he got her so that they could return home together.
"On their way home she demanded that he buys her some beer at some bottle store but after only taking two drinks she began dancing like a person who is already drunk hence the husband decided that they leave.
"At home he told the children to go into their bedrooms while they remained two of them where after a protracted argument and tugging, the handbag dropped and offloaded a wet tissue on which on which a used condom was wrapped, " narrated Mwape Mpemba who also added that the marital problems were known by senior military personnel.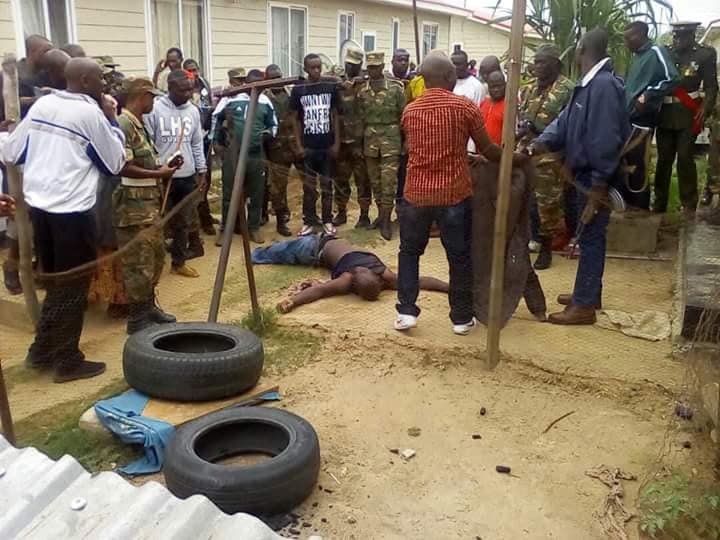 After the handbag dropped, the argument got worse and that forced elder children to wake up and went to the seating room where they also saw a USED CONDOM with sermen inside.
Tyson then asked the children to get back to their rooms. It was after that argument that the husband lost temper and shot dead his adulterous wife.
Ms Mwape narrated that her brother had on numerous times complained about his wife's immorality as she  was also still engaged in an affair with her former lover and father of her two children who is alleged to have been in the same Kabwe area on the fateful day.
Esther's lover is a Zambia Air Force -ZAF personnel based in Lusaka. She blamed the police anti robbery squad for their failure to use civility to capture her brother. She said the police attached emotions because one of their own was killed.
She further said that the police fired very toxic teargas in the house where Tyson was which up to now was still chocking the family members. Efforts to get a comment from central province commissioner of police Joel Njase failed as he ignored the phone calls and query messages sent to him.
And all of Esther's big children have told investigators that their mother was wrong and she refused to apologise for being found with a used condom.
(Visited 58 times, 1 visits today)
Subscribe to our Youtube Channel :
Follow Us on Instagram