A Mozambican driver is large after a truck he was travelling in got involved in a head on collision with a lorry carrying football players killing five people and injuring several others.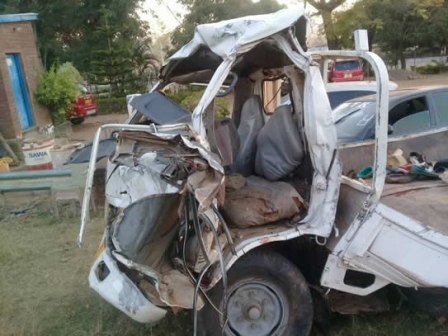 The truck driver has been identified as Simbeye Phiri who was driving a truck with registration number AAB 541 SF/MT 399 TATA and was carrying bales of tobacco.
According to Mwanza police station public relations officer Edwin Kaunda, the incident happened on Saturday in Mwanza around 3 pm.
"A lorry registration number MN 2629 with 26 football players and supporters on board was heading to Zalewa for a match around 3:00PM. As the lorry was descending the mountains, upon reaching Tchereni Village, it headed on a Mozambican truck which was in the process of overtaking another truck in front of it, said the PRO.
Following the impact, three passengers were pronounced dead upon arrival at Mwanza District Hospital while two others died while receiving treatment.
Madalitso Tchauya, the driver of the lorry and the rest of the injured passengers were still receiving treatment at the hospital.
Meanwhile, police are still looking for the driver who is still at large.
(Visited 13 times, 1 visits today)
Subscribe to our Youtube Channel :
Follow Us on Instagram