A 13-year-old Zimbabwean girl who averted a train disaster in which about 300 passengers could have perished has been honoured by the National Railways of Zimbabwe (NRZ).
Nozipho Sibanda, a Form One pupil saw a broken railway line in Sawmills in September last year, an hour before a Bulawayo-bound train from Victoria falls was set to pass and rushed to inform the station manager at Sawmills railway station.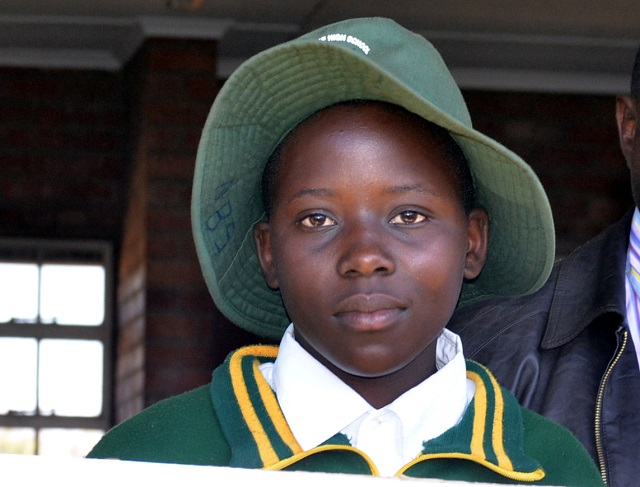 Sibanda was then a 12-year-old Grade Seven pupil.
In appreciation of her life saving act, last Friday the NRZ went to her school and committed to pay her school fees until she completes secondary school. The NRZ also guaranteed her a place at its training school in Bulawayo should she wish to be enrolled there.
NRZ Regional Marketing Manager Mr Joseph Temai commended Nozipho for her sense of responsibility.
"She saved over 300 lives in a passenger train that was coming from Victoria Falls to Bulawayo. She did something that some adults may have failed to do. As part of our whistle blowers programme, we decided to give her a small token of appreciation as a gesture to show gratitude to her family and her school for cultivating such good habits in a child," said Mr Temai.
"It was midweek in the morning and she was on her way to school. She noticed that part of the railway line was broken and she went to notify the station manager before going to school. It shows the kind of family and home that she was brought up in."
The station manager stopped the train that was due to pass on that track within an hour.
Mr Temai said property worth millions of dollars was saved and the lives of about 300 passengers were spared.
"She helped to save the Government's and taxpayer's money. Another person may not see the value of this as one may not see themselves as a beneficiary of railway services. When one considers that our food is transported via rail, our coal for electricity is transported via rail and other goods and services, it is important to note that we are all beneficiaries," he said.
Mr Temai urged the public to have a sense of responsibility in preserving national infrastructure and resources.
Nozipho, whose mother resides in South Africa, lives with her grandmother Mrs Eveline Sibanda.
Mrs Sibanda, who was also at Entumbane High School as her granddaughter was being handed a cheque for her bursary said she was proud of her granddaughter's actions, which had brought good name to her family.
"I am very happy and I speak blessings upon her life. She has done me proud at a time when children do things that embarrass parents," said Mrs Sibanda.
She said the first time she heard from NRZ that her granddaughter had done something good for the community, she did not realise the gravity and impact of her actions.
"I'm very grateful for this bursary and I hope she will make good use of this opportunity and study hard and excel and keep away from bad friends," she said.
NRZ offered her a place at its training school after high school. "If she takes up an interest in engineering and the technical side of academics, then she has a place at our college ready for her as soon as she finishes school," said Mr Temai.
NRZ Public Relations Manager Mr Nyasha Maravanyika said what the girl did shows that there is still hope for a community spirit and a positive attitude about the country and its resources.
"She was a mere primary pupil going about her business but she had the wisdom to realise that as she had seen the problem, she felt obliged to take it upon herself to report it to responsible authorities," he said.
Nozipho, who appeared shy and quiet, said she was happy that she saved life and property. She said she was excited that her family will no longer have to pay fees.
"I was on my way to school last year in September and I saw that the railway line was broken. I knew that if a railway was broken, the train was going to have an accident and injure or kill people. I was in Sawmills so I knew that the train was going to pass soon so I went and told the manager at the station. He stopped all trains and the rail line was fixed," said Nozipho.
"I am happy that I saved people's lives and that I helped the Government save a lot of money. I'm happy also that I will no longer be sent home for not paying fees until I finish school."
Her schoolmates gave a round of applause when Mr Maravanyika handed her a cheque worth $1 300.
Source:Chronicle
(Visited 6 times, 1 visits today)
Subscribe to our Youtube Channel :
Follow Us on Instagram