The ruling Democratic Progressive Party (DPP) are pushing for the arrest of their new bitter political competition, Vice-President Saulos Chilima who has launched his United Transformation Movement (UTM) ahead of next year's watershed elections.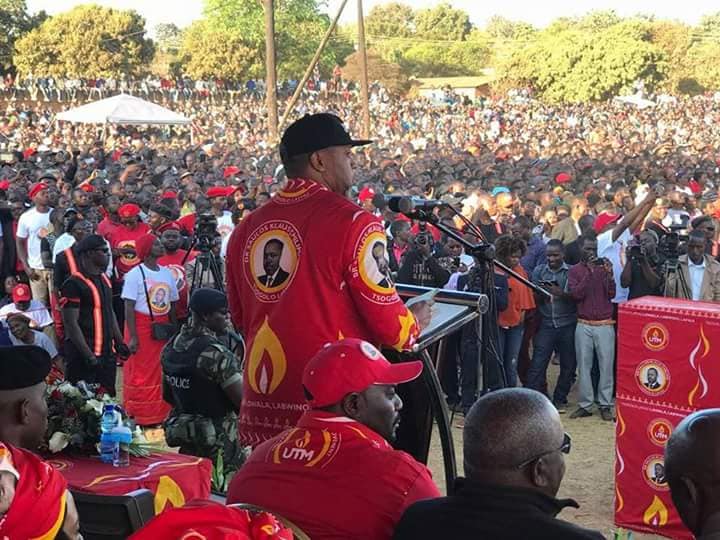 Reliable sources privy to the plot saying the DPP strategists working with deputy police chief Duncan Mwapasa, are convinced that the arrest on trumped up charges would severely weaken Chilima.
Head of Criminal Investigations Department (CID), Stain Chaima, who is deputy commissioner of police has prepared a dummy docket and is consulting with the DPP strategist on the matter.
Chaima has been meeting Vilera Liwonde an investigator at Anti Corruption Bureau (ACB) to compare notes on the docket so that charges can be slapped on on allegations of corruption.
But the crime buster refused to comment when contacted.
UTM spokesman Chidanti Malunga, MP said they have been tipped of the plot to arrest Chilima on " trumped up charges" politically motivated.
He said the idea is to get the Vice-President in Police cell and the regime could then administer a poison with intent to inflict grievous bodily harm to Chilima.
Chilima, who has been accusing the DPP–led government of perpetuating corruption and saying his movement is ready to usher in the change Malawi needs, is on record to have denied t been involved in corruption, but hinted at an attempt to smear his name by his political rivals.
The Vice-President also hit back at critics who have accused him of sitting and watching corruption since 2014.
On the contrary, he said he took several steps to prevent certain corrupt dealings including discussions with his boss, President Peter Mutharika.
Chilima has not only been speaking on corruption after launching UTM, he has been openly talking about it even before he resigned from DPP.
While he was still in DPP, Chilima gave a public lecture to students at Chancellor College's Department of Philosophy titled 'Addressing Moral Decadence: Towards an Effective Compliance and Ethic Programme' in which he said Malawi will continue to pay huge economic costs of moral decadence unless citizens work together towards transformation.
Chilima observed that moral decay, including corruption, accelerates conflict between ethics and the law in all sectors of the economy.
"Adherence to ethical standards or moral conduct is the norm not the exception. But despite this full realisation, we still find ourselves caught in this trap such that these malpractices take the shape of normalcy and become a way of life.
"Individuals that are appointed to hold senior positions of influence eventually lose control over the organisations they represent because they are obsessed with external attachments." he said.
Threats of arrest comes at a time when Chilima has warned that he will soon spill the beans about shady deals the current administration is allegedly involved in, including in the procurement of Escom generators.
He said UTM was formed to clear the mess created by the current administration which continues to plunder public resources when the majority of the citizenry were living in abject poverty.
Source : Malawi News Alert.
Subscribe to our Youtube Channel: