Opposition  MDC Alliance leader Nelson Chamisa has ruled out any coalition deal with his Zanu PF nemesis President Emmerson Mnangagwa for fear of being "sunk and swallowed" the same way his late predecessor Morgan Tsvangirai was politically manipulated during the Government of National Unity era.
Chamisa told South African broadcaster SABC on Tuesday night that his supporters had warned him to reject any overtures from Mnangagwa, lest he would sink his party.
"We must be able to protect the vote, otherwise we will not be able to convince anyone to go to elections five years down the line. Our people have said 'Mr Chamisa, don't work with these people'.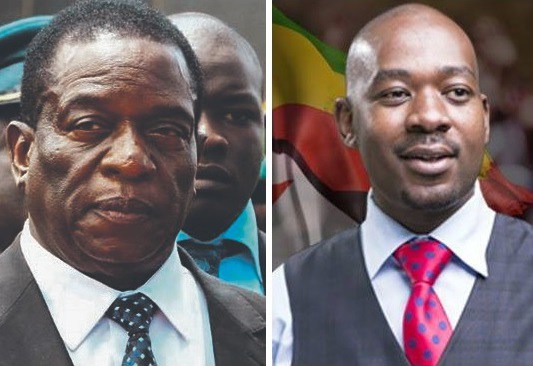 They are saying don't join hands with the Crocodile (Mnangagwa's moniker), you will be drowned' like what happened to president Tsvangirai when he worked with (former President) Robert Mugabe, he was diluted, we were diluted, we ended up losing focus and manipulated out of power," Chamisa said.
Chamisa however, said Zanu PF had not yet formally approached him for coalition talks.
 "There has not been any official approach," he said.
Zanu PF secretary for legal affairs Munyaradzi Paul Mangwana also said he was not aware of any discussions between Chamisa and Mnangagwa, but could not rule out the possibility of talks between the protagonists.
Last week, soon after Mnangagwa was declared winner of the July 30 polls by the Constitutional Court, he publicly admitted that Chamisa had a role to play in the development of the country after the opposition leader declared that the Zanu PF front-man had no capacity to steer the country out of the murky waters over the next five years.
Chamisa reiterated his position on Tuesday, saying: "Far from my fate being sealed. In any event it's not about Chamisa, it's about the people of Zimbabwe, they voted for a particular choice, but they were cheated. They were deceived, but that deception is not going to last forever. We have the authority. This country belongs to the people. That is why I told you that there is going to be a proper inauguration very soon. New Zimbabwe is coming, you will see it."
He warned of a "people's revolution in Zimbabwe" similar to the mass protests that led to Mugabe's ouster last November.
Source :  Newsday
(Visited 21 times, 1 visits today)